North America Modular Nuclear Power Market Size
The North America Modular Nuclear Power Market is projected to grow at a CAGR of 3.2% from 2023 to 2028.
The modular nuclear power design makes a non-greenhouse gas emitting, feasible, safe, and inexpensive energy promise. Nuclear reactors with a power output of under 300MWe are known as small modular reactors (SMRs). SMRs have a number of advantages over conventional bulk nuclear reactors, including their smaller size and quicker building timelines. SMR development is moving forward in western nations with significant private investment, particularly from small businesses. The presence of these new investors shows a significant transition from government-driven and -funded nuclear R&D to that being led by the private sector and individuals with strong entrepreneurial aspirations, typically related to a social purpose of reasonably priced sustainable energy. SMRs can be deployed incrementally in countries or regions with smaller electricity grids to cater increasing demand for energy. SMRs results in significant cost savings through modularization and factory construction, which improves the construction schedule and cut costs even further. Non-electrical applications that benefit from SMR designs and sizes include industrial heat generation, hydrogen production, and seawater desalination. Process heat or cogeneration improves thermal efficiencies significantly, resulting in a higher return on investment. SMRs can more easily fit into brownfield sites in place of decommissioned coal-fired plants, whose units are rarely very large - more than 90% are less than 500 MWe, with some less than 50 MWe. Coal-fired units retired in the United States between 2010 and 2012 averaged 97 MWe, and those scheduled to retire between 2015 and 25 average 145 MWe.
The market for modular nuclear power is primarily being driven by an expansion in global industrialization and R&D initiatives in a number of different nations. The rapid adoption of these materials in the construction, and other industries is fuelling the demand for modular nuclear power. Due to the region's increased nuclear producing capacity and better refuelling, maintenance, and safety systems at existing facilities, the modular nuclear power market in North America is growing.
The market for modular nuclear power in North America is growing as a result of the region's increasing nuclear producing capacity brought on by enhanced refueling, maintenance, and safety systems at existing plants. Growing demand for supply power for small and medium grid systems, increased interest in compact and less complex electricity generation units, cutting-edge technology in the industry, and robust government support are all factors that are propelling market expansion. Attaining economies of scale and huge costs of licensing small modular reactors (SMRs) are major impediment in the modular nuclear power industry in North America.
Additionally, owing to lower electrical output, SMRs can be installed in an existing grid or remotely off-grid in areas with insufficient transmission lines and grid capacity, providing low-carbon power to industry and the population. This is especially true for micro reactors, a subset of SMRs designed to generate up to 10 MW of electrical power. Micro reactors have smaller footprints than other SMRs and will be more suitable for areas with a lack of clean, reliable, and affordable energy. Furthermore, micro reactors could be used as a backup power supply in an emergency or to replace diesel-fueled power generators in rural communities or remote businesses, which has raised the demand for Modular Nuclear Power in North America region.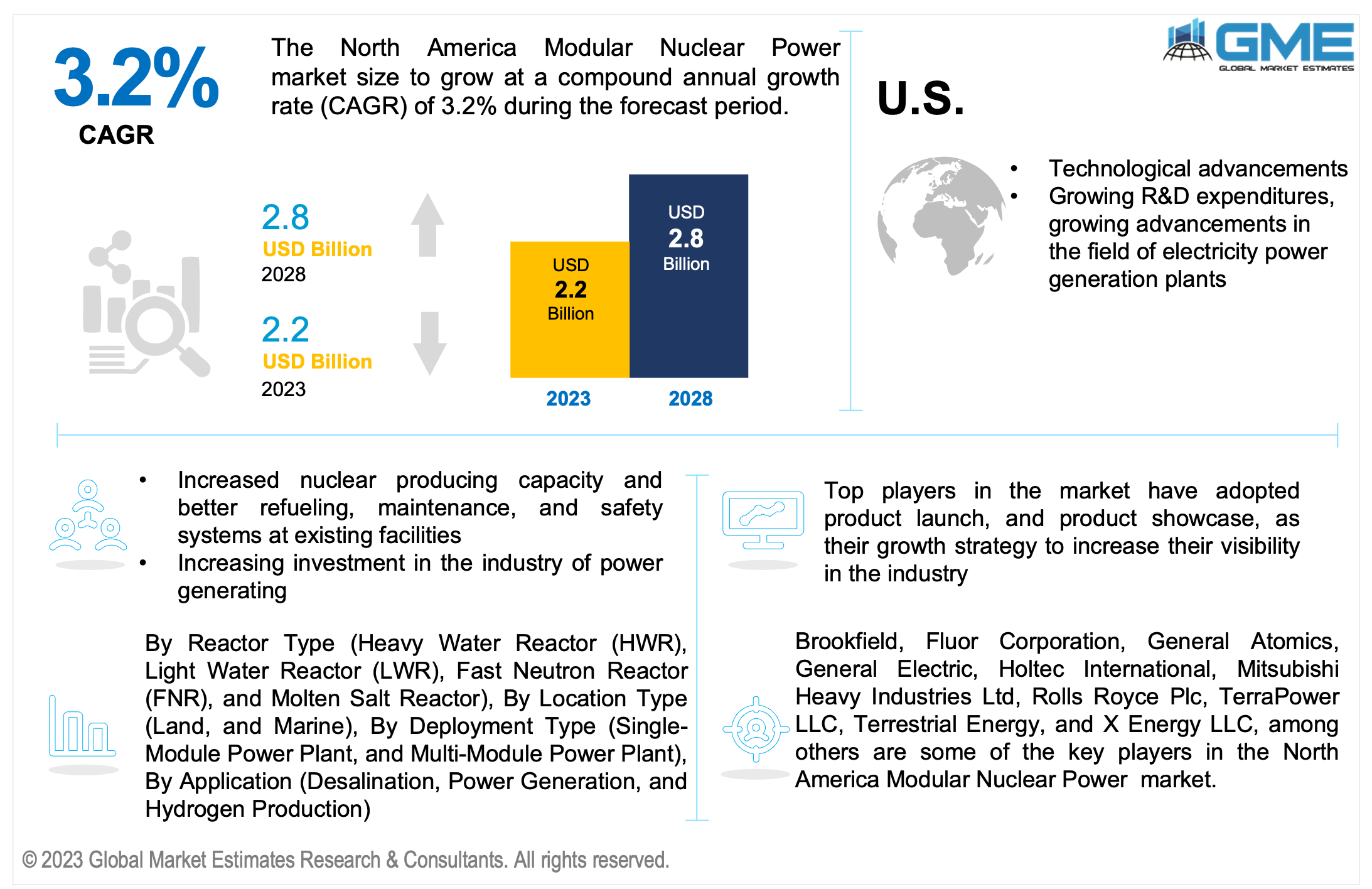 North America Modular Nuclear Power Market: By Reactor Type
The Fast Neutron Reactor (FNR) segment is expected to be the fastest-growing segment in the market from 2023-2028. Fast neutron reactors (FNRs), which advance conventional power reactor technology, are on the verge of becoming widely used. Actinides, which are often the long-lived component of high-level nuclear waste, can be burned, which offers the possibility of a significantly more effective use of uranium resources. Most Generation IV reactor concepts are FNRs, and global collaboration on FNR designs is moving forward with top priority, hence generating segment revenue.
North America Modular Nuclear Power Market: By Location Type
The Land segment is expected to be the largest-growing segment in the market from 2023-2028 owing to growing awareness of the benefits of land power plants, such as quick electricity delivery to areas with weak power infrastructure, mobile assets that allow for easy relocation, no need for a large site, and provision of secure power supply during natural disasters, thereby contributing to higher revenue share of this segment.
North America Modular Nuclear Power Market: By Deployment Type
The Multi-Module Power Plant segment is expected to be the largest-growing segment in the market from 2023-2028 owing to the simplicity of financing additional modules, the multi-module power plant. Compared to large nuclear reactors, multi-module SMR plants are simpler to finance since SMRs require smaller upfront investments for a unit and allow for the gradual addition of additional capacity. Multi-module SMRs that support incremental module additions offer series manufacturing cost savings. As a result, financial risks may be reduced by allowing investors and operators to adapt to shifting electricity demand and financial limitations. The market for SMRs for installation in multi-module power plants is anticipated to increase as a result of these considerations.
North America Modular Nuclear Power Market: By Application
The Desalination segment is anticipated to be the largest and fastest-growing segment in the market from 2023-2028. Nuclear desalination is the process of removing salt and minerals from seawater using heat and electricity produced by nuclear power plants. Its successful operations have spanned a few hundred reactor years all over the world. The economics of nuclear electricity could also be improved via nuclear desalination. Since some of the power generating capacity may be used to run the desalination plant rather than being sold into the electricity market below cost, nuclear desalination, for instance, could help buffer nuclear power plants from low electricity prices. Nuclear desalination may also lower the price of nuclear fuel by making it possible to extract uranium from concentrated brine more economically than from seawater, thereby generating segment revenue.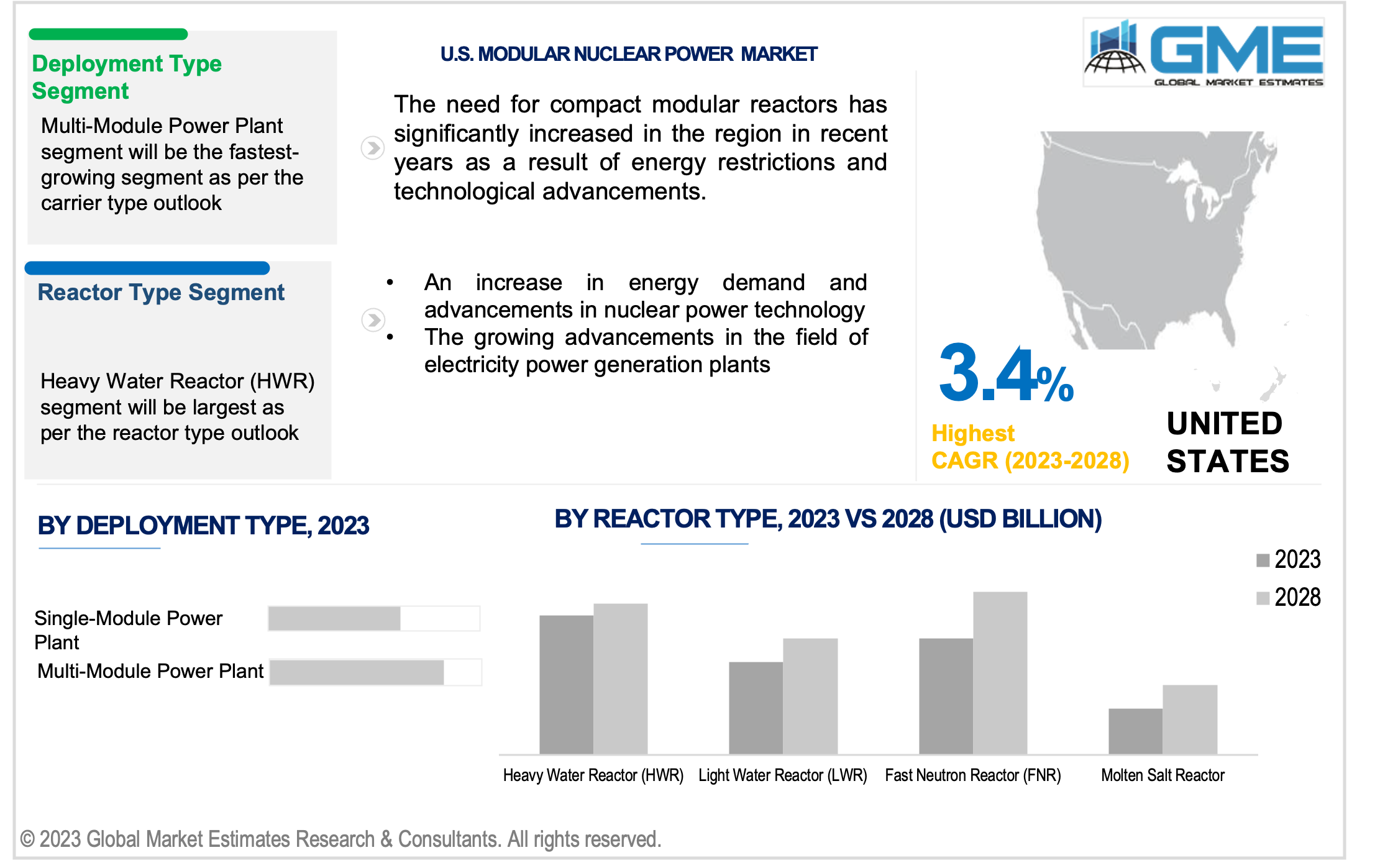 North America Modular Nuclear Power Market: By Country
Regionally, the market is anticipated to remain stable in United States with 68% of total regional share and is also predicted to be the fastest-growing segment in the market from 2023-2028 owing to increasing installation of small- and large-scale solar power plants in the united states region. The need for compact modular reactors has significantly increased in the region in recent years as a result of energy restrictions and technological advancements. It is frequently anticipated that many government agencies and businesses will upgrade the grid infrastructure in United States nations, which has prompted an increase in the use of SMR, which lowers greenhouse gas emissions and fosters energy security, hence enhancing the country share.
North America Modular Nuclear Power Market Share and Competitor Analysis
The paramount competitors covered in the North America Modular Nuclear Power market report are Brookfield, Fluor Corporation, General Atomics, General Electric, Holtec International, Mitsubishi Heavy Industries Ltd, Rolls Royce Plc, TerraPower LLC, Terrestrial Energy, and X Energy LLC among others.
Please note: This is not an exhaustive list of companies profiled in the report.
1 STRATEGIC INSIGHTS ON NEW REVENUE POCKETS
1.1 Strategic Opportunity & Attractiveness Analysis
1.1.1 Hot Revenue Pockets
1.1.2 Market Attractiveness Score
1.1.3 Revenue Impacting Opportunity
1.1.4 High Growing Region/Country
1.1.5 Competitor Analysis
1.1.6 Consumer Analysis
1.2 Global Market Estimates' View
1.3 Strategic Insights across Business Functions
1.3.1 For Chief Executive Officers
1.3.2 For Chief Marketing Officers
1.3.3 For Chief Strategy Officers
1.4 Evaluate the Potential of your Existing Business Lines vs. New Lines to Enter Into
2.1 Technological Adoption Rate
2.2 Current Trend Impact Analysis
2.3 Future Trend Impact Analysis
2.4 Data Metrics on Feed Stocks
3.1.2 Adjacent Market Opportunities
3.1.3 Ancillary Market Opportunities
3.2.1 Market Drivers: Impact Analysis
3.2.2 Market Restraints: Impact Analysis
3.2.3 Market Opportunities: Impact Analysis
3.2.4 Market Challenges: Impact Analysis
3.3.1 Porter's Five Forces Analysis
3.3.1.1 Threat of New Entrants
3.3.1.2 Threat of New Substitutes
3.3.1.3 Bargaining Power of Suppliers
3.3.1.4 Bargaining Power of Buyers
3.3.1.5 Intensity of Competitive Rivalry
3.3.2 SWOT Analysis; By Factor (Political & Legal, Economic, and Technological)
4 NORTH AMERICA MODULAR NUCLEAR POWER MARKET, BY REACTOR TYPE
4.2 Modular Nuclear Power Market: Reactor Type Scope Key Takeaways
4.3 Revenue Growth Analysis, 2022 & 2028
4.4.1 Heavy Water Reactor (HWR) Market Estimates and Forecast, 2020-2028 (USD Million)
4.5.1 Light Water Reactor (LWR) Market Estimates and Forecast, 2020-2028 (USD Million)
4.6 Fast Neutron Reactor (FNR)
4.6.1 Fast Neutron Reactor (FNR) Market Estimates and Forecast, 2020-2028 (USD Million)
4.7.1 Molten Salt Reactor Market Estimates and Forecast, 2020-2028 (USD Million)
5 NORTH AMERICA MODULAR NUCLEAR POWER MARKET, BY LOCATION TYPE
5.2 Modular Nuclear Power Market: Location Type Scope Key Takeaways
5.3 Revenue Growth Analysis, 2022 & 2028
5.4.1 Land Equipment Market Estimates and Forecast, 2020-2028 (USD Million)
5.5.1 Marine Market Estimates and Forecast, 2020-2028 (USD Million)
6 NORTH AMERICA MODULAR NUCLEAR POWER MARKET, BY DEPLOYMENTTYPE
6.2 Modular Nuclear Power Market: Deployment Type Scope Key Takeaways
6.3 Revenue Growth Analysis, 2022 & 2028
6.4.1 Single-Module Power Plant Market Estimates and Forecast, 2020-2028 (USD Million)
6.5.1 Multi-Module Power Plant Market Estimates and Forecast, 2020-2028 (USD Million)
7 NORTH AMERICA MODULAR NUCLEAR POWER MARKET, BY APPLICATION
7.2 Modular Nuclear Power Market: Application Scope Key Takeaways
7.3 Revenue Growth Analysis, 2022 & 2028
7.4.1 Desalination Market Estimates and Forecast, 2020-2028 (USD Million)
7.5.1 Power Generation Market Estimates and Forecast, 2020-2028 (USD Million)
7.6.1 Hydrogen Production Market Estimates and Forecast, 2020-2028 (USD Million)
8 NORTH AMERICA MODULAR NUCLEAR POWER MARKET, BY COUNTRY
8.2 North America Modular Nuclear Power Market Estimates and Forecast, 2020-2028 (USD Million)
8.2.5.1 U.S. Modular Nuclear Power Market Estimates and Forecast, 2020-2028 (USD Million)
8.2.5.2 Canada Modular Nuclear Power Market Estimates and Forecast, 2020-2028 (USD Million)
8.2.5.3 Mexico Modular Nuclear Power Market Estimates and Forecast, 2020-2028 (USD Million)
9.1 Company Market Share Analysis
9.2 Four Quadrant Positioning Matrix
9.4.1.1 Business Description & Financial Analysis
9.4.1.3 Products & Services Offered
9.4.1.4 Strategic Alliances between Business Partners
9.4.2.1 Business Description & Financial Analysis
9.4.2.3 Products & Services Offered
9.4.2.4 Strategic Alliances between Business Partners
9.4.3 Mitsubishi Heavy Industries Ltd
9.4.3.1 Business Description & Financial Analysis
9.4.3.3 Products & Services Offered
9.4.3.4 Strategic Alliances between Business Partners
9.4.4.1 Business Description & Financial Analysis
9.4.4.3 Products & Services Offered
9.4.4.4 Strategic Alliances between Business Partners
9.4.5.1 Business Description & Financial Analysis
9.4.5.3 Products & Services Offered
9.4.5.4 Strategic Alliances between Business Partners
9.4.6.1 Business Description & Financial Analysis
9.4.6.3 Products & Services Offered
9.4.6.4 Strategic Alliances between Business Partners
9.4.7.1 Business Description & Financial Analysis
9.4.7.3 Products & Services Offered
9.4.9.4 Strategic Alliances between Business Partners
9.4.8.1 Business Description & Financial Analysis
9.4.8.3 Products & Services Offered
9.4.8.4 Strategic Alliances between Business Partners
9.4.9.1 Business Description & Financial Analysis
9.4.9.3 Products & Services Offered
9.4.9.4 Strategic Alliances between Business Partners
9.4.10.1 Business Description & Financial Analysis
9.4.10.3 Products & Services Offered
9.4.10.4 Strategic Alliances between Business Partners
9.4.11.1 Business Description & Financial Analysis
9.4.11.3 Products & Services Offered
9.4.11.4 Strategic Alliances between Business Partners
10.1.2 Market Scope & Segmentation
10.2.1.2 GMEs Internal Data Repository
10.2.1.3 Secondary Resources & Third Party Perspectives
10.2.1.4 Company Information Sources
10.2.2.1 Various Location Type of Respondents for Primary Interviews
10.2.2.2 Number of Interviews Conducted throughout the Research Process
10.2.2.4 Discussion Guide for Primary Participants
10.2.3.1 Expert Panels Across 30+ Industry
10.2.4.1 Paid Local Experts Across 30+ Industry Across each Region
10.3.1.1 Macro-Economic Indicators Considered
10.3.1.2 Micro-Economic Indicators Considered
10.3.2.1 Company Share Analysis Approach
10.3.2.2 Estimation of Potential Product Sales
10.4.2 Time Series, Cross Sectional & Panel Data Analysis
10.5.1 Inhouse AI Based Real Time Analytics Tool
10.5.2 Output From Desk & Primary Research
10.6 Research Assumptions & Limitations
LIST OF TABLES
1 North America Modular Nuclear Power Market, By Reactor Type, 2020-2028 (USD Mllion)
2 Heavy Water Reactor (HWR) Market, By Country, 2020-2028 (USD Mllion)
3 Light Water Reactor (LWR) Market, By Country, 2020-2028 (USD Mllion)
4 Fast Neutron Reactor (FNR) Market, By Country, 2020-2028 (USD Mllion)
5 Molten Salt Reactor Market, By Country, 2020-2028 (USD Mllion)
6 North America Modular Nuclear Power Market, By Location Type, 2020-2028 (USD Mllion)
7 Land Market, By Country, 2020-2028 (USD Mllion)
8 Marine Market, By Country, 2020-2028 (USD Mllion)
9 North America Modular Nuclear Power Market, By DEPLOYMENT Type, 2020-2028 (USD Mllion)
10 Single-Module Power Plant Market, By Country, 2020-2028 (USD Mllion)
11 Multi-Module Power Plant Market, By Country, 2020-2028 (USD Mllion)
12 North America Modular Nuclear Power Market, By Application, 2020-2028 (USD Mllion)
13 DesalinationMarket, By Country, 2020-2028 (USD Mllion)
14 Power Generation Market, By Country, 2020-2028 (USD Mllion)
15 Hydrogen Production Market, By Country, 2020-2028 (USD Mllion)
16 Regional Analysis, 2020-2028 (USD Mllion)
17 North America Modular Nuclear Power Market, By Reactor Type, 2020-2028 (USD Million)
18 North America Modular Nuclear Power Market, By Location Type, 2020-2028 (USD Million)
19 North America Modular Nuclear Power Market, By Application, 2020-2028 (USD Million)
20 North America Modular Nuclear Power Market, By Country, 2020-2028 (USD Million)
21 U.S Modular Nuclear Power Market, By Reactor Type, 2020-2028 (USD Million)
22 U.S Modular Nuclear Power Market, By Location Type, 2020-2028 (USD Million)
23 U.S Modular Nuclear Power Market, By Application, 2020-2028 (USD Million)
24 Canada Modular Nuclear Power Market, By Reactor Type, 2020-2028 (USD Million)
25 Canada Modular Nuclear Power Market, By Location Type, 2020-2028 (USD Million)
26 Canada Modular Nuclear Power Market, By Application, 2020-2028 (USD Million)
27 Mexico Modular Nuclear Power Market, By Reactor Type, 2020-2028 (USD Million)
28 Mexico Modular Nuclear Power Market, By Location Type, 2020-2028 (USD Million)
29 Mexico Modular Nuclear Power Market, By Application, 2020-2028 (USD Million)
30 Brookfield: Products & Services Offering
31 Fluor Corporation: Products & Services Offering
32 Mitsubishi Heavy Industries Ltd: Products & Services Offering
33 General Atomics: Products & Services Offering
34 General Electric: Products & Services Offering
35 HOLTEC INTERNATIONAL: Products & Services Offering
36 Rolls Royce Plc : Products & Services Offering
37 TerraPower LLC: Products & Services Offering
38 Terrestrial Energy: Products & Services Offering
39 X Energy LLC: Products & Services Offering
40 Other Companies: Products & Services Offering
LIST OF FIGURES
1 North America Modular Nuclear Power Market Overview
2 North America Modular Nuclear Power Market Value From 2020-2028 (USD Mllion)
3 North America Modular Nuclear Power Market Share, By Reactor Type (2022)
4 North America Modular Nuclear Power Market Share, By Location Type (2022)
5 North America Modular Nuclear Power Market Share, By Application (2022)
6 Technological Trends In North America Modular Nuclear Power Market
7 Four Quadrant Competitor Positioning Matrix
8 Impact Of Macro & Micro Indicators On The Market
9 Impact Of Key Drivers On The North America Modular Nuclear Power Market
10 Impact Of Challenges On The North America Modular Nuclear Power Market
11 Porter's Five Forces Analysis
12 North America Modular Nuclear Power Market: By Reactor Type Scope Key Takeaways
13 North America Modular Nuclear Power Market, By Reactor Type Segment: Revenue Growth Analysis
14 Heavy Water Reactor (HWR) Market, By Country, 2020-2028 (USD Mllion)
15 Light Water Reactor (LWR) Market, By Country, 2020-2028 (USD Mllion)
16 Fast Neutron Reactor (FNR) Market, By Country, 2020-2028 (USD Mllion)
17 Molten Salt Reactor Market, By Country, 2020-2028 (USD Mllion)
18 North America Modular Nuclear Power Market: By Location Type Scope Key Takeaways
19 North America Modular Nuclear Power Market, By Location Type Segment: Revenue Growth Analysis
20 Land Market, By Country, 2020-2028 (USD Mllion)
21 Marine Market, By Country, 2020-2028 (USD Mllion)
22 North America Modular Nuclear Power Market, By Deployment Type Segment: Revenue Growth Analysis
23 Single-Module Power Plant Market, By Country, 2020-2028 (USD Mllion)
24 Multi-Module Power Plant Market, By Country, 2020-2028 (USD Mllion)
25 North America Modular Nuclear Power Market: By Application Scope Key Takeaways
26 North America Modular Nuclear Power Market, By Application Segment: Revenue Growth Analysis
27 DesalinationMarket, By Country, 2020-2028 (USD Mllion)
28 Power Generation Market, By Country, 2020-2028 (USD Mllion)
29 Hydrogen Production Market, By Country, 2020-2028 (USD Mllion)
30 Space & Defense Research Market, By Country, 2020-2028 (USD Mllion)
31 Others Market, By Country, 2020-2028 (USD Mllion)
32 Regional Segment: Revenue Growth Analysis
33 North America Modular Nuclear Power Market: Regional Analysis
34 North America Modular Nuclear Power Market Overview
35 North America Modular Nuclear Power Market, By Reactor Type
36 North America Modular Nuclear Power Market, By Location Type
37 North America Modular Nuclear Power Market, By Application
38 North America Modular Nuclear Power Market, By Country
39 U.S. Modular Nuclear Power Market, By Reactor Type
40 U.S. Modular Nuclear Power Market, By Location Type
41 U.S. Modular Nuclear Power Market, By Application
42 Canada Modular Nuclear Power Market, By Reactor Type
43 Canada Modular Nuclear Power Market, By Location Type
44 Canada Modular Nuclear Power Market, By Application
45 Mexico Modular Nuclear Power Market, By Reactor Type
46 Mexico Modular Nuclear Power Market, By Location Type
47 Mexico Modular Nuclear Power Market, By Application
48 Four Quadrant Positioning Matrix
49 Company Market Share Analysis
50 Brookfield: Company Snapshot
51 Brookfield: SWOT Analysis
52 Brookfield: Geographic Presence
53 Fluor Corporation: Company Snapshot
54 Fluor Corporation: SWOT Analysis
55 Fluor Corporation: Geographic Presence
56 Mitsubishi Heavy Industries Ltd: Company Snapshot
57 Mitsubishi Heavy Industries Ltd: SWOT Analysis
58 Mitsubishi Heavy Industries Ltd: Geographic Presence
59 General Atomics: Company Snapshot
60 General Atomics: Swot Analysis
61 General Atomics: Geographic Presence
62 General Electric: Company Snapshot
63 General Electric: SWOT Analysis
64 General Electric: Geographic Presence
65 HOLTEC INTERNATIONAL: Company Snapshot
66 HOLTEC INTERNATIONAL: SWOT Analysis
67 HOLTEC INTERNATIONAL: Geographic Presence
68 Rolls Royce Plc : Company Snapshot
69 Rolls Royce Plc : SWOT Analysis
70 Rolls Royce Plc : Geographic Presence
71 TerraPower LLC: Company Snapshot
72 TerraPower LLC: SWOT Analysis
73 TerraPower LLC: Geographic Presence
74 Terrestrial Energy.: Company Snapshot
75 Terrestrial Energy.: SWOT Analysis
76 Terrestrial Energy.: Geographic Presence
77 X Energy LLC: Company Snapshot
78 X Energy LLC: SWOT Analysis
79 X Energy LLC: Geographic Presence
80 Other Companies: Company Snapshot
81 Other Companies: SWOT Analysis
82 Other Companies: Geographic Presence