Market Insights:
The global market for nylon 6 66 copolymer accounted for more than USD 20 billion in 2016 and is anticipated to grow at a CAGR of 6% over the forecast period. The development of the PA 6 & 66 market is attributed to its increased usage in the automobile industry.
The largest share was occupied by PA 6 with most of the demand being generated from the textile industry. However, there is an expanding trend of PA 66 consumption from the engineering plastic industry.
There is an increasing demand of PA-6 in engineering plastics and other niche applications. These applications involve musical instruments, fishing instruments and surgical apparels. Electrical & electronics industry is expected to boost the demand for PA 66 as well. Processing adaptability and other physical properties of PA 66 are beneficial in the electrical & electronics industry.
Increasing demand for high performance and lightweight materials in developing economies are expected to fuel the growth of the electrical & electronics sector. Increasing cost of raw materials, high energy consumption, and production costs are the major factors anticipated to restrain the growth of the global nylon 66 market over the next few years.
Product Insights:
The heat resistance properties of nylon 6 are better than 66. Nylon 66 is also preferred due to its aesthetic advantages, lower costs, and other benefits. These monofilament items have wide applications in the field of consumer goods, paper, medical uses, automotive and textile industry.
The worldwide PA 66 market is anticipated to receive major impetus from the automotive industry. Improvement in the standard of living and increase in disposable income of consumers in developing economies is likely to supplement the products demand.
Light-weight automobile with increased efficiency is projected to grow over the coming years. Vehicle emission standards are expected to drive the demand for nylon 66 in the forecast period.
Application Insights:
Nylon 6 & 66 has an extensive range of applications in the automotive, electrical & electronics, textile, sports, defence, and engineering plastic sector. Engineering plastic products produced using these resins are lightweight and heat resistant.
Engineering plastics are gaining importance as they posses better mechanical and thermal properties than conventional plastics. The most significant areas of applications in the engineering plastics sector are agitators, wire harness, connectors bushings, bearing, nuts & bolts, fuse boxes, cylinder head covers, crankcases, timing belts, oil containers, and others
Around 60% of the worldwide market is occupied by PA-6, mostly for textile and carpet manufacturing. PA-66 is expected to eventually gain influence in the sewing thread industry as it finds excellent use in shoes market.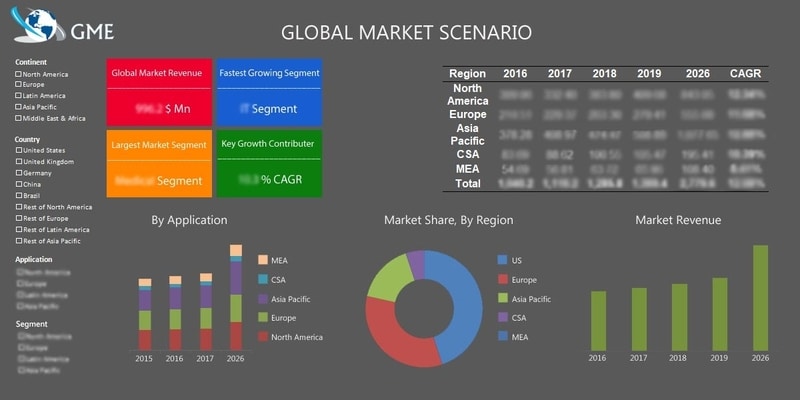 Regional Insights
Asia Pacific occupied a large share in the market with more than 40% of the worldwide demand during 2016. The provincial demand is due to the humongous consumption from developing countries such as China and India. The regional industry has drifted its focus from textiles to engineering plastics and automotive segments.
Rising engineering component production will probably trigger the regional demand over the coming years. Most of the provincial requirement comes from China, which is also a leading nylon producer. China represents around 20% of the worldwide consumption and is anticipated to maintain its dominance over the years. Europe and North America together lead to more than half of the global demand. Well established textile industry has benefited the regions to achieve this level of consumption.
End Use Landscape
The end-use landscape includes a list of current and prospective consumers prevailing across the regions. This section provides company addresses, contact details, products, and regional presence of companies who are purchasing or are likely to purchase products from Nylon 6 & 66 market. The major consumers of the product are TaizhouWinstrong Special Net Co. Ltd., National Plastic Ropes factory Co. Ltd., Trans Marine Network.
Competitor Analysis
With the increasing demand the global market is projected to get intense over the years. Some of the key players include Honeywell International Inc., Li PengEnterprice Company Ltd., Rhodia SA, Royal DSM N.V., Ube Industries Ltd., Evonik Industries AG, BASF SE, Radici Group, DuPont, Asahi Kasei Corporation.
Please note: This is not an exhaustive list of companies profiled in the report.
Toray launched CYCLEAD fabric made from recycled nylon 6 fibers and Ecouse polyester. In the coming years Toray has announced to expand the Ecouse brand to encompass non-fibre products.
1 RESEARCH METHODOLOGY
1.1 DESK RESEARCH
1.2 PRIMARY RESEARCH
1.3 ANALYSIS AND OUTPUT
1.4 FINAL OUTPUT FROM DESK AND PRIMARY RESEARCH
2 ECOSYSTEM OVERVIEW
3 TECHNOLOGICAL TRENDS IN NYLON 6 66 MARKET
4 DEMAND AND SUPPLY MATRIX
4.1 INTRODUCTION
4.2 DEMAND SIDE ANALYSIS
4.2.1 MARKET DRIVERS
4.2.2 MARKET RESTRAINTS
4.2.3 MARKET OPPORTUNITIES
4.2.4 MARKET CHALLENGES
4.3 SUPPLY SIDE ANALYSIS
4.3.1 FUTURE SCENARIO (CAGR% VS. COUNTRY)
4.3.2 MAPPING KEY NYLON 6 66 COPOLYMER MANUFACTURERS
4.3.3 PORTER'S FIVE FORCES ANALYSIS
4.3.3.1 Threat of new entrants
4.3.3.2 Threat of substitutes
4.3.3.3 Bargaining power of buyers
4.3.3.4 Bargaining power of suppliers
4.3.3.5 Intensity of competitive rivalry
4.3.4 TREND ANALYSIS
4.4 PESTLE ANALYSIS
4.5 IMPACT ANALYSIS
4.6 PATENT LISTING
4.7 BEHAVIOURAL ANALYSIS
4.7.1 KEY MACRO INDICATORS
4.7.2 KEY MICRO INDICATORS
5 REGULATORY FRAMEWORK
6 NYLON 6 66 COPOLYMER MARKET, BY PRODUCT
6.1 INTRODUCTION
6.2 NYLON 6
6.3 NYLON 66
7 NYLON 6 66 COPOLYMER MARKET, BY APPLICATION
7.1 INTRODUCTION
7.2 AUTOMOTIVE
7.3 ELECTRICAL & ELECTRONIC
7.4 ENGINEERING PLASTIC
7.5 TEXTILES
7.6 OTHERS
8 NYLON 6 66 COPOLYMER MARKET, BY REGION
8.1 INTRODUCTION
8.2 NORTH AMERICA
8.2.1 BY PRODUCT
8.2.2 BY APPLICATION
8.2.3 BY COUNTRY
8.2.3.1 U.S.
8.2.3.1.1 By product
8.2.3.1.2 By application
8.2.3.2 CANADA
8.2.3.2.1 By product
8.2.3.2.2 By application
8.2.3.3 MEXICO
8.2.3.3.1 By product
8.2.3.3.2 By application
8.3 EUROPE
8.3.1 BY PRODUCT
8.3.2 BY APPLICATION
8.3.3 BY COUNTRY
8.3.3.1 GERMANY
8.3.3.1.1 By product
8.3.3.1.2 By application
8.3.3.2 FRANCE
8.3.3.2.1 By product
8.3.3.2.2 By application
8.3.3.3 UK
8.3.3.3.1 By product
8.3.3.3.2 By application
8.4 ASIA PACIFIC
8.4.1 BY PRODUCT
8.4.2 BY APPLICATION
8.4.3 BY COUNTRY
8.4.3.1 CHINA
8.4.3.1.1 By product
8.4.3.1.2 By application
8.4.3.2 INDIA
8.4.3.2.1 By product
8.4.3.2.2 By application
8.4.3.3 JAPAN
8.4.3.3.1 By product
8.4.3.3.2 By application
8.5 CENTRAL AND SOUTH AMERICA
8.5.1 BY PRODUCT
8.5.2 BY APPLICATION
8.5.3 BY COUNTRY
8.5.3.1 BRAZIL
8.5.3.1.1 By product
8.5.3.1.2 By application
8.6 MIDDLE EAST AND AFRICA
8.6.1 BY PRODUCT
8.6.2 BY APPLICATION
8.6.3 BY COUNTRY
8.6.3.1 SAUDI ARABIA
8.6.3.1.1 By product
8.6.3.1.2 By application
8.6.3.2 SOUTH AFRICA
8.6.3.2.1 By product
8.6.3.2.2 By application
9 GLOBAL NYLON 6 66 COPOLYMER MARKET: END-USER LANDSCAPE (CONSUMER PROFILE)
9.1 INTRODUCTION
9.2 NORTH AMERICA
9.3 EUROPE
9.4 ASIA-PACIFIC
9.5 MIDDLE EAST & AFRICA
9.6 CENTRAL & SOUTH AMERICA
10 VENDOR LANDSCAPE (SUPPLIERS/MANUFACTURERS/DISTRIBUTORS)
10.1 NORTH AMERICA
10.2 EUROPE
10.3 ASIA-PACIFIC
10.4 REST OF THE WORLD
11 COMPANY PROFILE
11.1 BASF SE
11.1.1 BUSINESS DESCRIPTION
11.1.2 FINANCIAL PERFORMANCE
11.1.3 SWOT ANALYSIS
11.1.4 PRODUCTS AND SERVICES OFFERED
11.1.5 STRATEGIC INITIATIVES
11.2 LANXESS AG
11.2.1 BUSINESS DESCRIPTION
11.2.2 FINANCIAL PERFORMANCE
11.2.3 SWOT ANALYSIS
11.2.4 PRODUCTS AND SERVICES OFFERED
11.2.5 STRATEGIC INITIATIVES
11.3 HUNTSMAN CORPORATION
11.3.1 BUSINESS DESCRIPTION
11.3.2 FINANCIAL PERFORMANCE
11.3.3 SWOT ANALYSIS
11.3.4 PRODUCTS AND SERVICES OFFERED
11.3.5 STRATEGIC INITIATIVES
11.4 ADVANSIX INC.
11.4.1 BUSINESS DESCRIPTION
11.4.2 FINANCIAL PERFORMANCE
11.4.3 SWOT ANALYSIS
11.4.4 PRODUCTS AND SERVICES OFFERED
11.4.5 STRATEGIC INITIATIVES
11.5 UBE INDUSTRIES, LTD.
11.5.1 BUSINESS DESCRIPTION
11.5.2 FINANCIAL PERFORMANCE
11.5.3 SWOT ANALYSIS
11.5.4 PRODUCTS AND SERVICES OFFERED
11.5.5 STRATEGIC INITIATIVES
11.6 INVISTA S.A.R.L.
11.6.1 BUSINESS DESCRIPTION
11.6.2 FINANCIAL PERFORMANCE
11.6.3 SWOT ANALYSIS
11.6.4 PRODUCTS AND SERVICES OFFERED
11.6.5 STRATEGIC INITIATIVES
11.7 DOMO CHEMICALS
11.7.1 BUSINESS DESCRIPTION
11.7.2 FINANCIAL PERFORMANCE
11.7.3 SWOT ANALYSIS
11.7.4 PRODUCTS AND SERVICES OFFERED
11.7.5 STRATEGIC INITIATIVES
11.8 TORAY INDUSTRIES, INC...
11.8.1 BUSINESS DESCRIPTION
11.8.2 FINANCIAL PERFORMANCE
11.8.3 SWOT ANALYSIS
11.8.4 PRODUCTS AND SERVICES OFFERED
11.8.5 STRATEGIC INITIATIVES
11.9 ASHLEY POLYMERS, INC..
11.9.1 BUSINESS DESCRIPTION
11.9.2 FINANCIAL PERFORMANCE
11.9.3 SWOT ANALYSIS
11.9.4 PRODUCTS AND SERVICES OFFERED
11.9.5 STRATEGIC INITIATIVES
11.10 ASCEND PERFORMANCE MATERIALS LLC
11.10.1 BUSINESS DESCRIPTION
11.10.2 FINANCIAL PERFORMANCE
11.10.3 SWOT ANALYSIS
11.10.4 PRODUCTS AND SERVICES OFFERED
11.10.5 STRATEGIC INITIATIVES
11.11 ASCEND PERFORMANCE MATERIALS LLC
11.11.1 BUSINESS DESCRIPTION
11.11.2 FINANCIAL PERFORMANCE
11.11.3 SWOT ANALYSIS
11.11.4 PRODUCTS AND SERVICES OFFERED
11.11.5 STRATEGIC INITIATIVES
11.12 HONGWU INTERNATIONAL GROUP LTD.
11.12.1 BUSINESS DESCRIPTION
11.12.2 FINANCIAL PERFORMANCE
11.12.3 SWOT ANALYSIS
11.12.4 PRODUCTS AND SERVICES OFFERED
11.12.5 STRATEGIC INITIATIVES
11.13 GOODFELLOW GROUP
11.13.1 BUSINESS DESCRIPTION
11.13.2 FINANCIAL PERFORMANCE
11.13.3 SWOT ANALYSIS
11.13.4 PRODUCTS AND SERVICES OFFERED
11.13.5 STRATEGIC INITIATIVES
11.14 RHODIA SA
11.14.1 BUSINESS DESCRIPTION
11.14.2 FINANCIAL PERFORMANCE
11.14.3 SWOT ANALYSIS
11.14.4 PRODUCTS AND SERVICES OFFERED
11.14.5 STRATEGIC INITIATIVES
11.15 ROYAL DSM N.V.
11.15.1 BUSINESS DESCRIPTION
11.15.2 FINANCIAL PERFORMANCE
11.15.3 SWOT ANALYSIS
11.15.4 PRODUCTS AND SERVICES OFFERED
11.15.5 STRATEGIC INITIATIVES
The global nylon 6 66 copolymer market has been studied from the year 2016 till 2025. However, the CAGR provided in the report is from the year 2017 to 2025. The research methodology involved three stages: Desk research, Primary survey research, and Analysis & Output from the entire research process.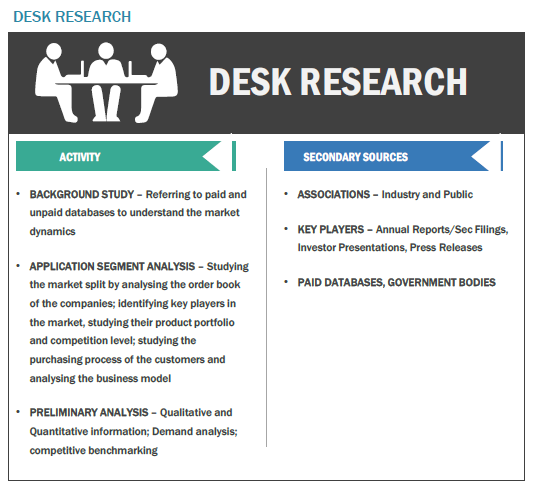 The desk research involved a robust background study which meant referring to paid and unpaid databases to understand the industry analysis; industry trends; market analysis; market trends; market dynamics; mapping contracts from press releases; identifying the key players in the market, studying their product portfolio, competition level, annual reports/SEC filings & investor presentations; and learning the demand and supply side analysis for the nylon 6 66 copolymer.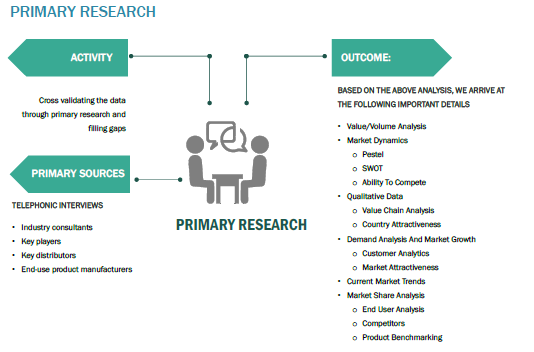 The primary research activity included telephonic conversations with more than 50 tier 1 industry consultants, VPs, CEOs, COOs, financial consultants, business consultants, strategy consultants, project management consultants, business management consultants, distributors, and end-use product manufacturers.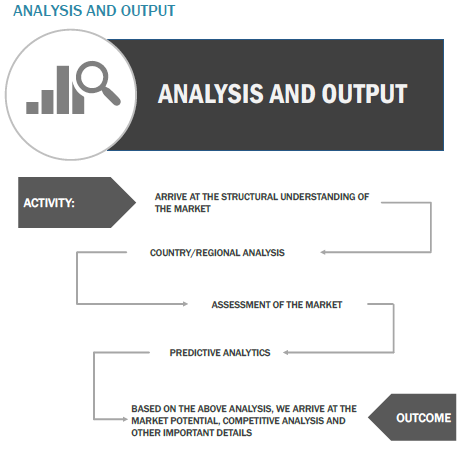 Finally, based on the above thorough research process, an in-depth analysis was carried out considering the following aspects: market attractiveness, current & future market trends, demand forecasting, market share analysis, SWOT analysis of the company's manufacturing nylon 6 66 copolymer, and customer analytics.