OLED Display Market Insights
The global OLED display market is estimated to be valued at USD 48.76 billion in 2021 and is projected to reach USD 134.84 billion by 2026 at a CAGR of 22.56%. OLED technology is being employed in a growing variety of applications, which is projected to considerably boost the market. Increasing investment and demand for consumer goods that utilize this technology, like mobile phones and cameras, are projected to benefit the overall market. Factors such as rising demand for cost-effective and energy-saving OLED lighting, increased government initiatives toward OLED adoption, and development in the display and big screen backlight markets function as important drivers, propelling the organic LED market globally.
Increased R&D investment funds from government and private organizations are presumed to drive the OLED market. Numerous advanced and developing countries across the globe are functioning to transition to energy-efficient lighting technologies. Experts anticipate that, as a result of persistent R&D, the OLED technique will comply with the requisite productivity and pricing objectives, allowing for a seamless switchover from conventional to effective lighting alternatives.
The organic LED market, on the other hand, is impeded to some level by challenges such as increased technology expenses and innumerable technical constraints. Besides this, the burgeoning demand for eco-friendly lighting alternatives, as well as the ubiquitous adoption of smart lighting systems, are foreseen to offer a commercially viable organic LED market opportunity globally.
Lighting accounts for approximately 15% of total global energy consumption. Furthermore, lights account for approximately 5% of global carbon emissions. As a result, the United Nations Environment Programme (UNEP) has issued regulations on energy-saving lighting alternatives in order to minimize carbon emissions. With rapid urbanization and institutional economic expansion in Europe and the Middle East, the lighting market in these areas is foreseen to evolve progressively over the next two decades, culminating in increased demand for OLED-based lighting. As a result, the demand for more LED-based lighting for efficacious energy savings and cost savings is presumed to drive the global development of the OLED lighting market.
Globally governments have concentrated on implementing OLED technology-based lighting to reduce costs and greenhouse gas emissions. The optimistic stance of different nations toward the deployment of OLED lighting innovations empowers the global market forward. For example, the German government offers municipal governments tax incentives to substitute lighting in public ownership infrastructure, including old streetlights, with novel OLED innovations.
Moreover, the Middle East countries are home to The Middle East Lighting Association (MELA), a global non-profit organization founded by Gulf Advanced Lighting, GE Lighting, Osram, Philips Lighting, and Tridonic. MELA's guiding fundamental concept is to demonstrate the objectives of the region's leading lighting product manufacturing companies in assisting state officials in developing and incorporating strategy, norms, and regulations for lighting-related goods and services.
Furthermore, the association is committed to championing energy-efficient lighting practices for the betterment of the natural ecosystem, human contentment, and consumer wellness and protection. As a result, all of the expanding government regulations and campaigns promoting the use of OLED lighting technologies considerably boost the global expansion of the OLED market.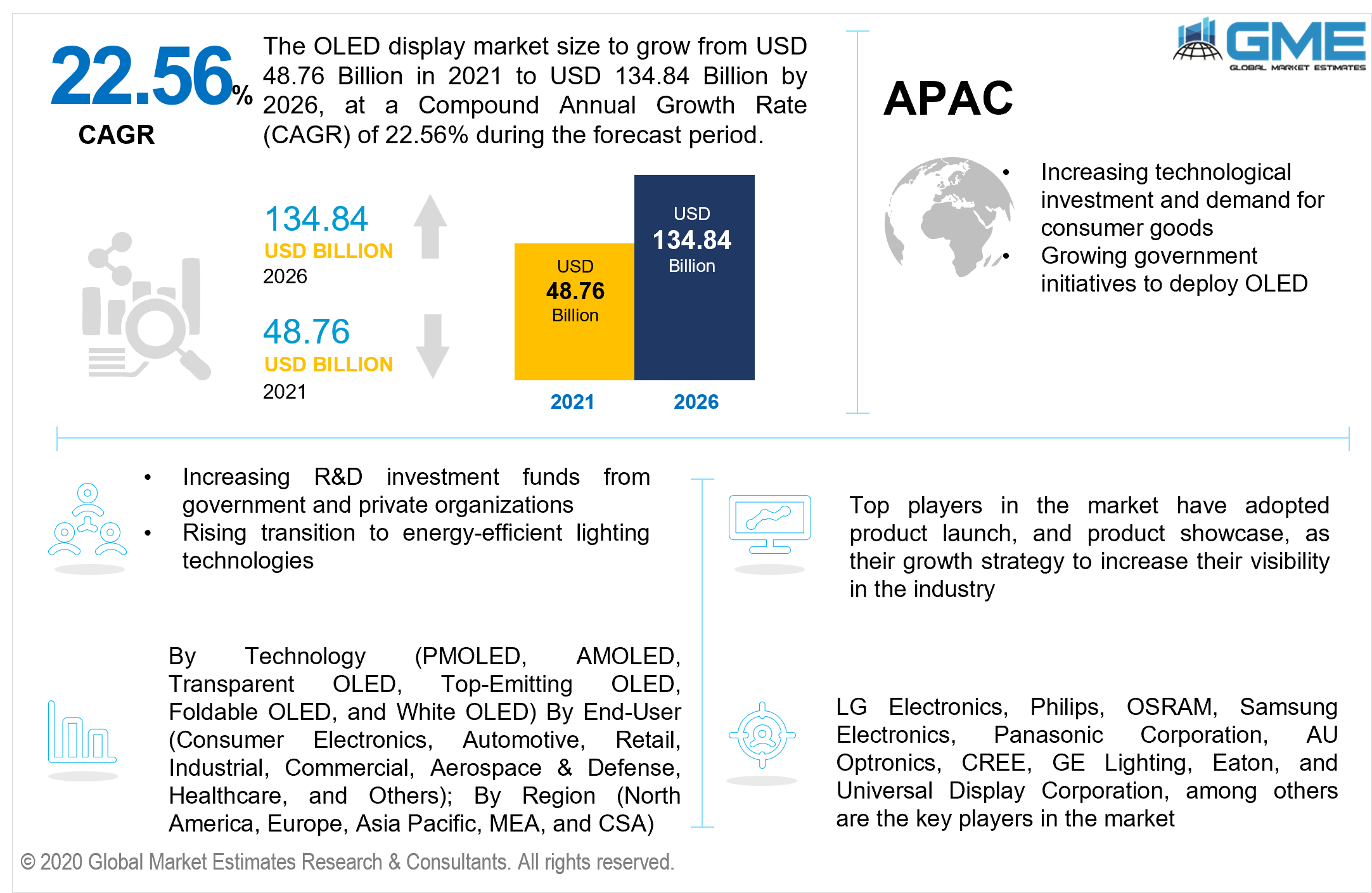 OLED Display Market: By Technology
Based on the technology in the market, it is divided into PMOLED, AMOLED, Transparent OLED, Top-Emitting OLED, Foldable OLED, and White OLED. PMOLED is foreseen to predominate. The growing utilization of PMOLED screens in wearable devices, media players, automotive, healthcare technology devices, as well as other devices is foreseen to drive the OLED market. They are also utilized in portable gaming machines and are not limited in size or resolution. As a result, rising demand for smartwatches, fitness trackers, and mobile healthcare devices is likely to drive the expansion of the PMOLED display market in the future.
OLED Display Market: By End-User
Based on the end-user, the market is divided into consumer electronics, automotive, retail, industrial, commercial, aerospace & defense, healthcare, and others. Consumer electronics are foreseen to predominate. Mobile phones were the most common end-use sector for OLEDs, accounting for more than 80% of the total market share. Since technical improvements have contributed to the creation of large-sized displays, use in television sets is also gaining momentum. OLEDs are employed in a variety of components in the high-end consumer electronics product range. Other electronic items, such as microwave ovens and washing machines, also use OLEDs to assist in making the product more ecologically friendly.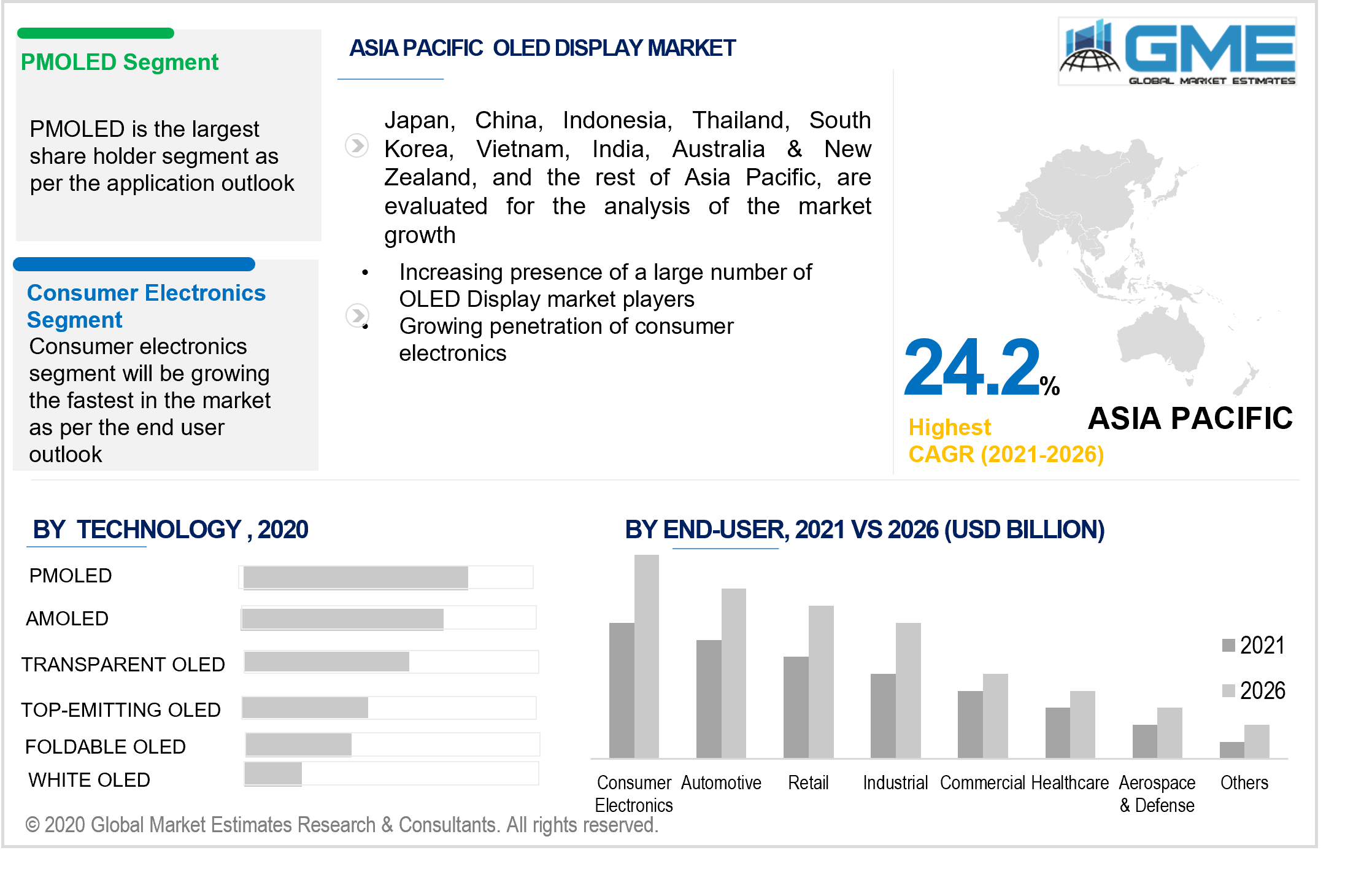 OLED Display Market: By Region
As per the geographical analysis, the market can be classified into North America (the US, Canada, and Mexico), Asia Pacific (India, China, Japan, Malaysia, Singapore, and Rest of Asia Pacific), Europe (Germany, United Kingdom, Italy, France, Spain, Netherlands, and Rest of Europe), Middle East & Africa and Central & South America. North America is assumed to have a sizable share of the OLED market. This is due to the area's growing flexible market globally, steadily increasing demand for giant Tv display panels, improved demand for automobiles and digital signage, and the deployment of OLED displays in mobile devices. With accelerated urbanization and economic expansion in this area, demand for OLED-based lighting is presumed to rise dramatically over the forecast period. The requirement for more LED-based light sources in the North American area for efficacious energy efficiency and cost reductions is foreseen to augment the OLED market size.
APAC is estimated to be the fastest-growing market during the forecast period. There are large investments made in the manufacturing sectors, which will drive the market for different industries, majorly in the market for OLED Display. The robust growth can be linked to the region's focused manufacturing as well as increased utilization. The existence of a significant number of market participants in Japan, Korea, and Taiwan has further aided the regional market. A significant proportion of the Chinese government's budget is being funneled into the display industry. South Korea, on the contrary, is making investments in academic research and development activities for OLED technological advances. Electronics conglomerates are pouring billions of dollars into the APAC region.
OLED Display Market Share and Competitor Analysis
LG Electronics, Philips, OSRAM, Samsung Electronics, Panasonic Corporation, AU Optronics, CREE, GE Lighting, Eaton, and Universal Display Corporation, among others are the key players in the market.
Please note: This is not an exhaustive list of companies profiled in the report.
Chapter 1 Methodology
1.1 Market Scope & Definitions
1.2 Estimates & Forecast Calculation
1.3 Historical Data Overview And Validation
1.4 Data Sources
1.4.1 Secondary
1.4.2 Primary
Chapter 2 Report Outlook
2.1 OLED Display Industry Overview, 2019-2026
2.1.1 Industry Overview
2.1.2 Technology Overview
2.1.3 End-User Overview
2.1.4 Regional Overview
Chapter 3 OLED Display Market Trends
3.1 Market Segmentation
3.2 Industry Background, 2019-2026
3.3 Market Key Trends
3.3.1 Positive Trends
3.3.1.1 Increase In Government Initiatives Towards Oled Adoption
3.3.1.2 High Demand For Cost Effective And Energy Saving Oled Lighting
3.3.2 Industry Challenges
3.3.2.1 High Cost Of The Technology
3.4 Prospective Growth Scenario
3.4.1 Technology Growth Scenario
3.4.2 End-User Growth Scenario
3.5 COVID-19 Influence over Industry Growth
3.6 Porter's Analysis
3.7 PESTEL Analysis
3.8 Value Chain & Supply Chain Analysis
3.9 Regulatory Framework
3.9.1 North America
3.9.2 Europe
3.9.3 APAC
3.9.4 LATAM
3.9.5 MEA
3.10 Technology Overview
3.11 Market Share Analysis, 2020
3.11.1 Company Positioning Overview, 2020
Chapter 4 OLED Display Market, By Technology
4.1 Technology Outlook
4.2 PMOLED
4.2.1 Market Size, By Region, 2019-2026 (USD Million)
4.3 AMOLED
4.3.1 Market Size, By Region, 2019-2026 (USD Million)
4.4 Transparent OLED
4.4.1 Market Size, By Region, 2019-2026 (USD Million)
4.5 Top-Emitting OLED
4.5.1 Market Size, By Region, 2019-2026 (USD Million)
4.6 Foldable OLED
4.6.1 Market Size, By Region, 2019-2026 (USD Million)
4.7 White OLED
4.7.1 Market Size, By Region, 2019-2026 (USD Million)
Chapter 5 OLED Display Market, By End-User
5.1 End-User Outlook
5.2 Consumer Electronics
5.2.1 Market Size, By Region, 2019-2026 (USD Million)
5.3 Automotive
5.3.1 Market Size, By Region, 2019-2026 (USD Million)
5.4 Retail
5.4.1 Market Size, By Region, 2019-2026 (USD Million)
5.5 Industrial
5.5.1 Market Size, By Region, 2019-2026 (USD Million)
5.6 Commercial
5.6.1 Market Size, By Region, 2019-2026 (USD Million)
5.7 Aerospace & Defense
5.7.1 Market Size, By Region, 2019-2026 (USD Million)
5.8 Healthcare
5.8.1 Market Size, By Region, 2019-2026 (USD Million)
5.9 Others
5.9.1 Market Size, By Region, 2019-2026 (USD Million)
Chapter 6 OLED Display Market, By Region
6.1 Regional outlook
6.2 North America
6.2.1 Market Size, By Country 2019-2026 (USD Million)
6.2.2 Market Size, By Technology, 2019-2026 (USD Million)
6.2.3 Market Size, By End-User, 2019-2026 (USD Million)
6.2.4 U.S.
6.2.4.1 Market Size, By Technology, 2019-2026 (USD Million)
6.2.4.2 Market Size, By End-User, 2019-2026 (USD Million)
6.2.5 Canada
6.2.5.1 Market Size, By Technology, 2019-2026 (USD Million)
6.2.5.2 Market Size, By End-User, 2019-2026 (USD Million)
6.3 Europe
6.3.1 Market Size, By Country 2019-2026 (USD Million)
6.3.2 Market Size, By Technology, 2019-2026 (USD Million)
6.3.3 Market Size, By End-User, 2019-2026 (USD Million)
6.3.4 Germany
6.2.4.1 Market Size, By Technology, 2019-2026 (USD Million)
6.2.4.2 Market Size, By End-User, 2019-2026 (USD Million)
6.3.5 UK
6.3.5.1 Market Size, By Technology, 2019-2026 (USD Million)
6.3.5.2 Market Size, By End-User, 2019-2026 (USD Million)
6.3.6 France
6.3.6.1 Market Size, By Technology, 2019-2026 (USD Million)
6.3.6.2 Market Size, By End-User, 2019-2026 (USD Million)
6.3.7 Italy
6.3.7.1 Market Size, By Technology, 2019-2026 (USD Million)
6.3.7.2 Market Size, By End-User, 2019-2026 (USD Million)
6.3.8 Spain
6.3.8.1 Market Size, By Technology, 2019-2026 (USD Million)
6.3.8.2 Market Size, By End-User, 2019-2026 (USD Million)
6.3.9 Russia
6.3.9.1 Market Size, By Technology, 2019-2026 (USD Million)
6.3.9.2 Market Size, By End-User, 2019-2026 (USD Million)
6.4 Asia Pacific
6.4.1 Market Size, By Country 2019-2026 (USD Million)
6.4.2 Market Size, By Technology, 2019-2026 (USD Million)
6.4.3 Market Size, By End-User, 2019-2026 (USD Million)
6.4.4 China
6.4.4.1 Market Size, By Technology, 2019-2026 (USD Million)
6.4.4.2 Market Size, By End-User, 2019-2026 (USD Million)
6.4.5 India
6.4.5.1 Market Size, By Technology, 2019-2026 (USD Million)
6.4.5.2 Market Size, By End-User, 2019-2026 (USD Million)
6.4.6 Japan
6.4.6.1 Market Size, By Technology, 2019-2026 (USD Million)
6.4.6.2 Market Size, By End-User, 2019-2026 (USD Million)
6.4.7 Australia
6.4.7.1 Market Size, By Technology, 2019-2026 (USD Million)
6.4.7.2 Market size, By End-User, 2019-2026 (USD Million)
6.4.8 South Korea
6.4.8.1 Market Size, By Technology, 2019-2026 (USD Million)
6.4.8.2 Market Size, By End-User, 2019-2026 (USD Million)
6.5 Latin America
6.5.1 Market Size, By Country 2019-2026 (USD Million)
6.5.2 Market Size, By Technology, 2019-2026 (USD Million)
6.5.3 Market Size, By End-User, 2019-2026 (USD Million)
6.5.4 Brazil
6.5.4.1 Market Size, By Technology, 2019-2026 (USD Million)
6.5.4.2 Market Size, By End-User, 2019-2026 (USD Million)
6.5.5 Mexico
6.5.5.1 Market Size, By Technology, 2019-2026 (USD Million)
6.5.5.2 Market Size, By End-User, 2019-2026 (USD Million)
6.5.6 Argentina
6.5.6.1 Market Size, By Technology, 2019-2026 (USD Million)
6.5.6.2 Market Size, By End-User, 2019-2026 (USD Million)
6.6 MEA
6.6.1 Market Size, By Country 2019-2026 (USD Million)
6.6.2 Market Size, By Technology, 2019-2026 (USD Million)
6.6.3 Market Size, By End-User, 2019-2026 (USD Million)
6.6.4 Saudi Arabia
6.6.4.1 Market Size, By Technology, 2019-2026 (USD Million)
6.6.4.2 Market Size, By End-User, 2019-2026 (USD Million)
6.6.5 UAE
6.6.5.1 Market Size, By Technology, 2019-2026 (USD Million)
6.6.5.2 Market Size, By End-User, 2019-2026 (USD Million)
6.6.6 South Africa
6.6.6.1 Market Size, By Technology, 2019-2026 (USD Million)
6.6.6.2 Market Size, By End-User, 2019-2026 (USD Million)
Chapter 7 Company Landscape
7.1 Competitive Analysis, 2020
7.2 LG Electronics
7.2.1 Company Overview
7.2.2 Financial Analysis
7.2.3 Strategic Positioning
7.2.4 Info Graphic Analysis
7.3 Philips
7.3.1 Company Overview
7.3.2 Financial Analysis
7.3.3 Strategic Positioning
7.3.4 Info Graphic Analysis
7.4 OSRAM
7.4.1 Company Overview
7.4.2 Financial Analysis
7.4.3 Strategic Positioning
7.4.4 Info Graphic Analysis
7.5 Samsung Electronics
7.5.1 Company Overview
7.5.2 Financial Analysis
7.5.3 Strategic Positioning
7.5.4 Info Graphic Analysis
7.6 Panasonic Corporation
7.6.1 Company Overview
7.6.2 Financial Analysis
7.6.3 Strategic Positioning
7.6.4 Info Graphic Analysis
7.7 AU Optronics
7.7.1 Company Overview
7.7.2 Financial Analysis
7.7.3 Strategic Positioning
7.7.4 Info Graphic Analysis
7.8 CREE
7.8.1 Company Overview
7.8.2 Financial Analysis
7.8.3 Strategic Positioning
7.8.4 Info Graphic Analysis
7.9 GE Lighting
7.9.1 Company Overview
7.9.2 Financial Analysis
7.9.3 Strategic Positioning
7.9.4 Info Graphic Analysis
7.10 Eaton
7.10.1 Company Overview
7.10.2 Financial Analysis
7.10.3 Strategic Positioning
7.10.4 Info Graphic Analysis
7.11 Universal Display Corporation
7.11.1 Company Overview
7.11.2 Financial Analysis
7.11.3 Strategic Positioning
7.11.4 Info Graphic Analysis
7.12 Other Companies
7.12.1 Company Overview
7.12.2 Financial Analysis
7.12.3 Strategic Positioning
7.12.4 Info Graphic Analysis