Portable Dialysis Machines Market Size
The global portable dialysis machines market is projected to grow from USD 16.1 billion in 2021 and is expected to reach USD 22.1 billion by 2026 at a CAGR of 6.5% from 2021 to 2026.
Dialysis is a life-sustaining surgery for patients with advanced kidney damage. Every year, over 1 million individuals in the United States struggle from end-stage renal disease (ESRD). The figures are startling on a global scale. As per projections, 4 million individuals worldwide have ESRD, and the number of patients affected by this condition is growing at an average rate of 5–7 percent every year. Taiwan, Japan, Mexico, the United States, and Belgium have the highest prevalence of ESRD.
Wearable and portable dialysis technologies have the potential to improve quality of life for patients by helping patients to persist with their regular tasks while on hemodialysis, as well as by easing nutritional and liquid restrictions and lowering pill load. Innovations in nanotechnology fabrication, coupled with advances in circuitry and portability, have enabled the development of the next generation of wearable and portable dialysis devices that are currently propelling the market's growth.
The continuous need to optimize treatment plans while lowering its effect on quality of life, prioritizing minimally invasive methods, as well as international health breakthroughs and innovation, are some of the growth factors supporting the growth of the market. Additionally, wearable or implantable devices enables patients to work and undertake daily activities while dialyzing, as well as allowing them to consume a wider variety of food alternatives, are expected to boost the market's expansion throughout the projected period.
The rapidly ageing demographic population and the increasing prevalence of renal illnesses are the major factors driving the growth of the portable dialysis equipment market over the forecast period. Implementation of home hemodialysis minimises the demand on hospitals supplies because patients or carers can perform cannulation and dialysis therapy supervision at the comfort of home with reduced cost. Technological advancements in home hemodialysis equipment segment, such as portable equipment, are propelling the market to grow faster.
The COVID-19 epidemic has put a pressure on many elements of health-care delivery, including dialysis. Those suffering from COVID-19-related acute renal impairment, as well as chronic dialysis patients who needed isolation or cohort dialysis had to undergo changes pertaining to availability of machines and consumables. Inadequate knowledge on incidence impedes capacity planning, and the quick shift in demand has added to the difficulties.
Nonetheless, the growing cost of portable dialysis equipment, as well as the lack of insurance support for treatment coverage, dissuade patients from receiving home hemodialysis therapy, which may prevent the market adoption of portable dialysis machines during the forecast period.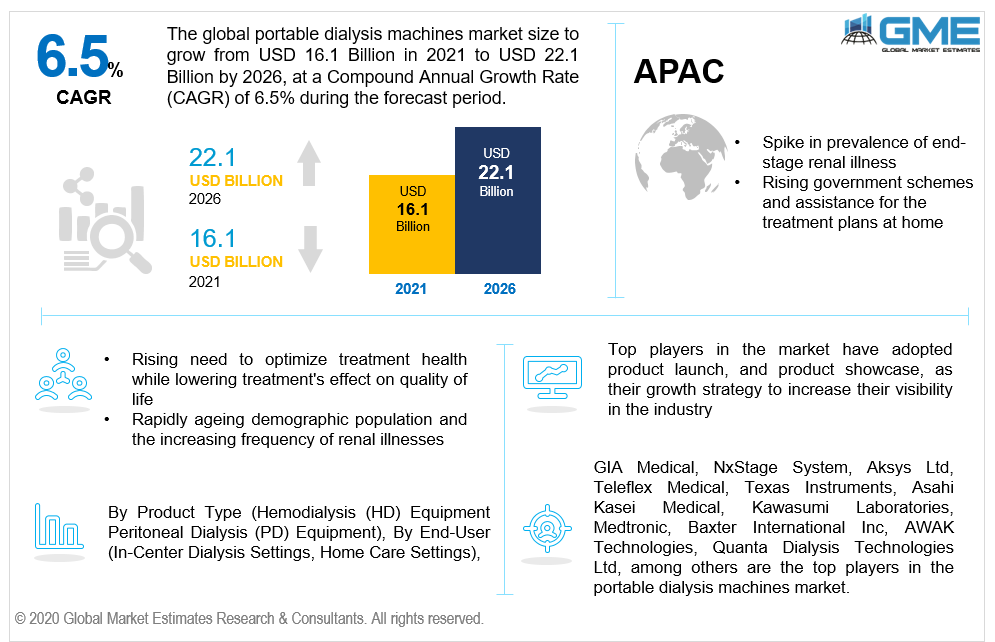 Portable Dialysis Machines Market: By Type
Based on type, the market is segmented into hemodialysis (HD) and peritoneal dialysis (PD).. During the forecast period, the hemodialysis (HD) segment held the largest share of the market owing to the rising prevalence of chronic renal disease, and increasing awareness regarding home healthcare treatment procedures. Hemodialysis is a treatment that filters, detoxifies, and transfers blood to outside the body. This technique is usually performed in a dialysis local clinic, where blood is cleansed using a dialysis machine. Peritoneal dialysis, on the other end, is often used to extract toxins from the blood when kidneys stop functioning. This type of dialysis can be performed in - house, at workplace, and even on the road.
Portable Dialysis Machines Market: By End-User
Based on end-user, the market is segmented into in-center dialysis settings, home care settings. The market for home care settings is expected to have a larger share during the forecast period as home dialysis therapies have been linked to greater flexibility when it comes of treatment schedule and medication, better quality of life, and lower expenses. Most researchers have also indicated that home therapies enhance patient survival, although whether this is causal or merely a result of a healthy lifestyle being chosen for home treatments is unknown. Home hemodialysis are be done for a prolonged period of time and much more regularly.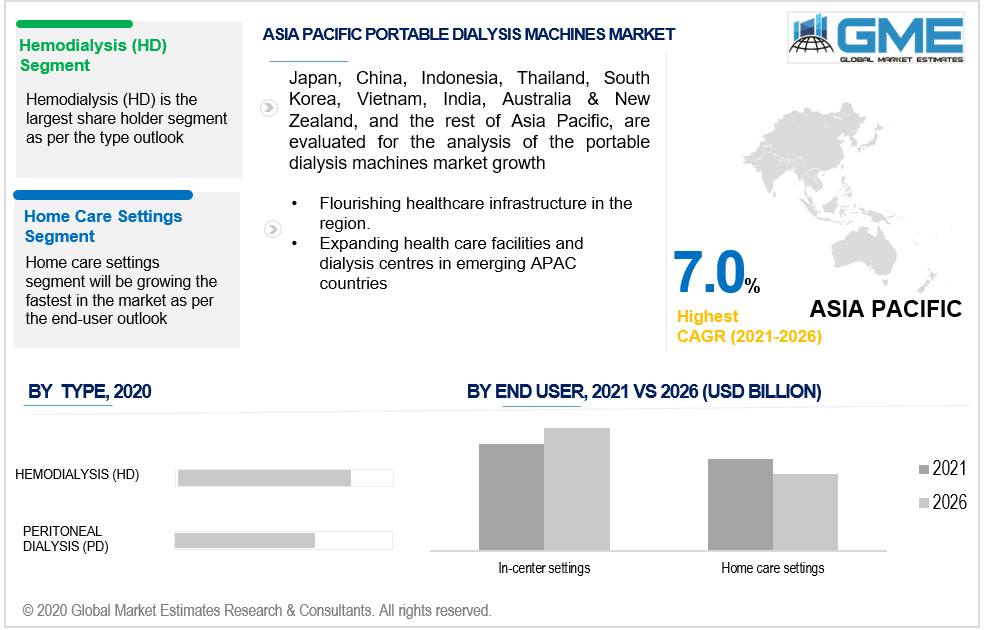 Portable Dialysis Machines Market: By Region
As per the geographical analysis, the market can be classified into North America (the US, Canada, and Mexico), Asia Pacific (India, China, Japan, Malaysia, Singapore, and Rest of Asia Pacific), Europe (Germany, United Kingdom, Italy, France, Spain, Netherlands, and Rest of Europe), Middle East & Africa (Saudi Arabia, Jordan, Qatar, South Africa, Rest of Middle East & Africa) and Central and South America (Brazil & rest of Central and South America).
The North American region is expected to hold the lion's share of the global revenue generated in the market as the renal dialysis business has witnessed a significant number of product launch strategies for new technologies. Manufacturers are taking keen interest in funding specialised hemodialysis and peritoneal dialysis equipment with various interventions, which will have an impact on the end-user experience.
During the forecast period, the Asia Pacific region is expected to grow rapidly owing to the rising prevalence of end-stage renal illness and chronic kidney diseases. Furthermore, supportive government schemes and assistance for the treatment of end-stage renal impairment and chronic kidney disease are driving the growth of the APAC market. Flourishing healthcare infrastructure is predicted to provide prospects for growth in this region. Also, increasing number of health care facilities and dialysis centres in emerging nations, as well as integrated therapies, are likely to drive regional market expansion.
Portable Dialysis Machines Market Share and Competitor Analysis
GIA Medical, NxStage System, Aksys Ltd, Teleflex Medical, Texas Instruments, Asahi Kasei Medical, Kawasumi Laboratories, Medtronic, Baxter International Inc, AWAK Technologies, Quanta Dialysis Technologies Ltd, among others are the top players in the portable dialysis machines market.
Please note: This is not an exhaustive list of companies profiled in the report.
Chapter 1 Methodology
1.1 Market Scope & Definitions
1.2 Estimates & Forecast Calculation
1.3 Historical Data Overview and Validation
1.4 Data Sources
1.4.1 Secondary
1.4.2 Primary
Chapter 2 Report Outlook
2.1 Portable Dialysis Machines Industry Overview, 2020-2026
2.1.1 Industry Overview
2.1.2 Type Overview
2.1.3 End-User Overview
2.1.4 Regional Overview
Chapter 3 Portable Dialysis Machines Market Trends
3.1 Market Segmentation
3.2 Industry Background, 2020-2026
3.3 Market Key Trends
3.3.1 Positive Trends
3.3.1.1 The rising need to optimize treatment plans while lowering treatment's effect on quality of life
3.3.2 Industry Challenges
3.3.2.1 The lack of support from the insurance firm to cover the device cost
3.4 Prospective Growth Scenario
3.4.1 Type Growth Scenario
3.4.2 End-User Growth Scenario
3.5 COVID-19 Influence over Industry Growth
3.6 Porter's Analysis
3.7 PESTEL Analysis
3.8 Value Chain & Supply Chain Analysis
3.9 Regulatory Framework
3.9.1 North America
3.9.2 Europe
3.9.3 APAC
3.9.4 LATAM
3.9.5 MEA
3.10 Distribution Channels Overview
3.11 Market Share Analysis, 2020
3.11.1 Company Positioning Overview, 2020
Chapter 4 Portable Dialysis Machines Market, By Type
4.1 Type Outlook
4.2 Hemodialysis (HD) Equipment
4.2.1 Market Size, By Region, 2020-2026 (USD Billion)
4.3 Peritoneal Dialysis (PD) Equipment
4.3.1 Market Size, By Region, 2020-2026 (USD Billion)
Chapter 5 Portable Dialysis Machines Market, By End-User
5.1 End-User Outlook
5.2 In-Center Dialysis Settings
5.2.1 Market Size, By Region, 2020-2026 (USD Billion)
5.3 Home Care Settings
5.3.1 Market Size, By Region, 2020-2026 (USD Billion)
Chapter 6 Portable Dialysis Machines Market, By Region
6.1 Regional outlook
6.2 North America
6.2.1 Market Size, By Country 2020-2026 (USD Billion)
6.2.2 Market Size, By Type, 2020-2026 (USD Billion)
6.2.3 Market Size, By End-User, 2020-2026 (USD Billion)
6.2.4 U.S.
6.2.4.1 Market Size, By Type, 2020-2026 (USD Billion)
6.2.4.2 Market Size, By End-User, 2020-2026 (USD Billion)
6.2.5 Canada
6.2.5.1 Market Size, By Type, 2020-2026 (USD Billion)
6.2.5.2 Market Size, By End-User, 2020-2026 (USD Billion)
6.3 Europe
6.3.1 Market Size, By Country 2020-2026 (USD Billion)
6.3.2 Market Size, By Type, 2020-2026 (USD Billion)
6.3.3 Market Size, By End-User, 2020-2026 (USD Billion)
6.3.4 Germany
6.3.4.1 Market Size, By Type, 2020-2026 (USD Billion)
6.3.4.2 Market Size, By End-User, 2020-2026 (USD Billion)
6.3.5 UK
6.3.5.1 Market Size, By Type, 2020-2026 (USD Billion)
6.3.5.2 Market Size, By End-User, 2020-2026 (USD Billion)
6.3.6 France
6.3.6.1 Market Size, By Type, 2020-2026 (USD Billion)
6.3.6.2 Market Size, By End-User, 2020-2026 (USD Billion)
6.3.7 Italy
6.3.7.1 Market Size, By Type, 2020-2026 (USD Billion)
6.3.7.2 Market Size, By End-User, 2020-2026 (USD Billion)
6.3.8 Spain
6.3.8.1 Market Size, By Type, 2020-2026 (USD Billion)
6.3.8.2 Market Size, By End-User, 2020-2026 (USD Billion)
6.3.9 Russia
6.3.9.1 Market Size, By Type, 2020-2026 (USD Billion)
6.3.9.2 Market Size, By End-User, 2020-2026 (USD Billion)
6.4 Asia Pacific
6.4.1 Market Size, By Country 2020-2026 (USD Billion)
6.4.2 Market Size, By Type, 2020-2026 (USD Billion)
6.4.3 Market Size, By End-User, 2020-2026 (USD Billion)
6.4.4 China
6.4.4.1 Market Size, By Type, 2020-2026 (USD Billion)
6.4.4.2 Market Size, By End-User, 2020-2026 (USD Billion)
6.4.5 India
6.4.5.1 Market Size, By Type, 2020-2026 (USD Billion)
6.4.5.2 Market Size, By End-User, 2020-2026 (USD Billion)
6.4.6 Japan
6.4.6.1 Market Size, By Type, 2020-2026 (USD Billion)
6.4.6.2 Market Size, By End-User, 2020-2026 (USD Billion)
6.4.7 Australia
6.4.7.1 Market Size, By Type, 2020-2026 (USD Billion)
6.4.7.2 Market size, By End-User, 2020-2026 (USD Billion)
6.4.8 South Korea
6.4.8.1 Market Size, By Type, 2020-2026 (USD Billion)
6.4.8.2 Market Size, By End-User, 2020-2026 (USD Billion)
6.5 Latin America
6.5.1 Market Size, By Country 2020-2026 (USD Billion)
6.5.2 Market Size, By Type, 2020-2026 (USD Billion)
6.5.3 Market Size, By End-User, 2020-2026 (USD Billion)
6.5.4 Brazil
6.5.4.1 Market Size, By Type, 2020-2026 (USD Billion)
6.5.4.2 Market Size, By End-User, 2020-2026 (USD Billion)
6.5.5 Mexico
6.5.5.1 Market Size, By Type, 2020-2026 (USD Billion)
6.5.5.2 Market Size, By End-User, 2020-2026 (USD Billion)
6.5.6 Argentina
6.5.6.1 Market Size, By Type, 2020-2026 (USD Billion)
6.5.6.2 Market Size, By End-User, 2020-2026 (USD Billion)
6.6 MEA
6.6.1 Market Size, By Country 2020-2026 (USD Billion)
6.6.2 Market Size, By Type, 2020-2026 (USD Billion)
6.6.3 Market Size, By End-User, 2020-2026 (USD Billion)
6.6.4 Saudi Arabia
6.6.4.1 Market Size, By Type, 2020-2026 (USD Billion)
6.6.4.2 Market Size, By End-User, 2020-2026 (USD Billion)
6.6.5 UAE
6.6.5.1 Market Size, By Type, 2020-2026 (USD Billion)
6.6.5.2 Market Size, By End-User, 2020-2026 (USD Billion)
6.6.6 South Africa
6.6.6.1 Market Size, By Type, 2020-2026 (USD Billion)
6.6.6.2 Market Size, By End-User, 2020-2026 (USD Billion)
Chapter 7 Company Landscape
7.1 Competitive Analysis, 2020
7.2 GIA Medical
7.2.1 Company Overview
7.2.2 Financial Analysis
7.2.3 Strategic Positioning
7.2.4 Info Graphic Analysis
7.3 NxStage System
7.3.1 Company Overview
7.3.2 Financial Analysis
7.3.3 Strategic Positioning
7.3.4 Info Graphic Analysis
7.4 Aksys Ltd
7.4.1 Company Overview
7.4.2 Financial Analysis
7.4.3 Strategic Positioning
7.4.4 Info Graphic Analysis
7.5 Teleflex Medical
7.5.1 Company Overview
7.5.2 Financial Analysis
7.5.3 Strategic Positioning
7.5.4 Info Graphic Analysis
7.6 Texas Instruments
7.6.1 Company Overview
7.6.2 Financial Analysis
7.6.3 Strategic Positioning
7.6.4 Info Graphic Analysis
7.7 Asahi Kasei Medical
7.7.1 Company Overview
7.7.2 Financial Analysis
7.7.3 Strategic Positioning
7.7.4 Info Graphic Analysis
7.8 Kawasumi Laboratories
7.8.1 Company Overview
7.8.2 Financial Analysis
7.8.3 Strategic Positioning
7.8.4 Info Graphic Analysis
7.9 Medtronic
7.9.1 Company Overview
7.9.2 Financial Analysis
7.9.3 Strategic Positioning
7.9.4 Info Graphic Analysis
7.10 Other Companies
7.10.1 Company Overview
7.10.2 Financial Analysis
7.10.3 Strategic Positioning
7.10.4 Info Graphic Analysis