Portable Medical Devices Market Insights
The growth of the portable medical devices industry is associated with the increased R&D investments andneed for real-time patient monitoring, so more wireless technology integrated medical equipment are being adopted and developed for boosting of maintaining systematic and effective patient data and keep track of patients status. Wireless technologies like WI-Fi, Bluetooth, etc. helps to keep a record, monitor, access the data very easily on phones and tablets.
Rising awareness for portable devices, for increased mobility, attributes to increased adoption of portable devices in hospitals and across healthcare settings. Growth opportunities for life science instruments have prompted the portable medical devices market to grow for the future predicted period.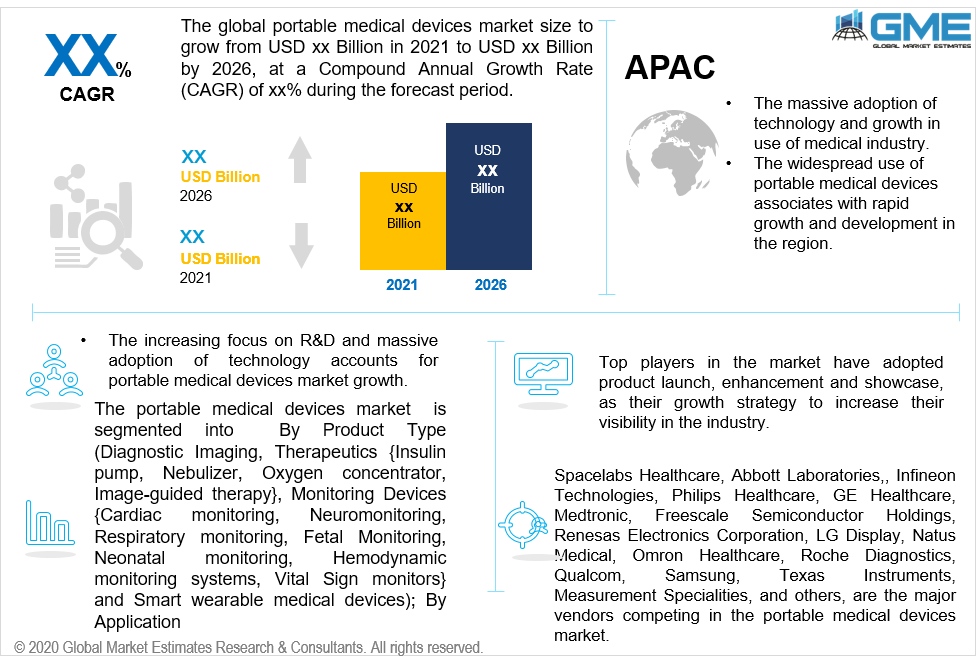 Portable Medical Devices Market: By Product Type
Based on product type, the market comprises of Diagnostic imaging such as CT, X-ray, Ultrasound and Endoscopes, Therapeutics such as Insulin pump, Nebulizer, Oxygen concentrator, Image-guided therapy, Monitoring Devices such as Cardiac monitoring, Neuromonitoring, Respiratory monitoring, Fetal Monitoring, Neonatal monitoring, Hemodynamic monitoring systems, Vital Sign monitorsand Smart wearable medical devices.
The monitoring segment holds the largest market share owing to its growing adoption across health care institutions, technological advancements by approval, and launch of advanced products for all forms of monitoring. The diagnostic segment holds the second largest market share for portable medical devices by product type, owing to its increased adoption for forms of monitoring systems to facilitate the mobility in diagnostics with the development of smaller units to carry out the same are the factors boosting the portable medical devices market.
Portable Medical Devices Market: By Application
Based on application, the users ofthe portable medical devices market are Gynecology, Cardiology, Gastrointestinal, Urology, Neurology, Respiratory, Orthopedics, and Others.
The cardiology application segment accounts for the largest share of the portable medical devices market with a wide range of applications for technological advancements and the development of new products in cardiology. The gynecology application market segment is also expected to witness growth with the development of handheld ultrasound systems.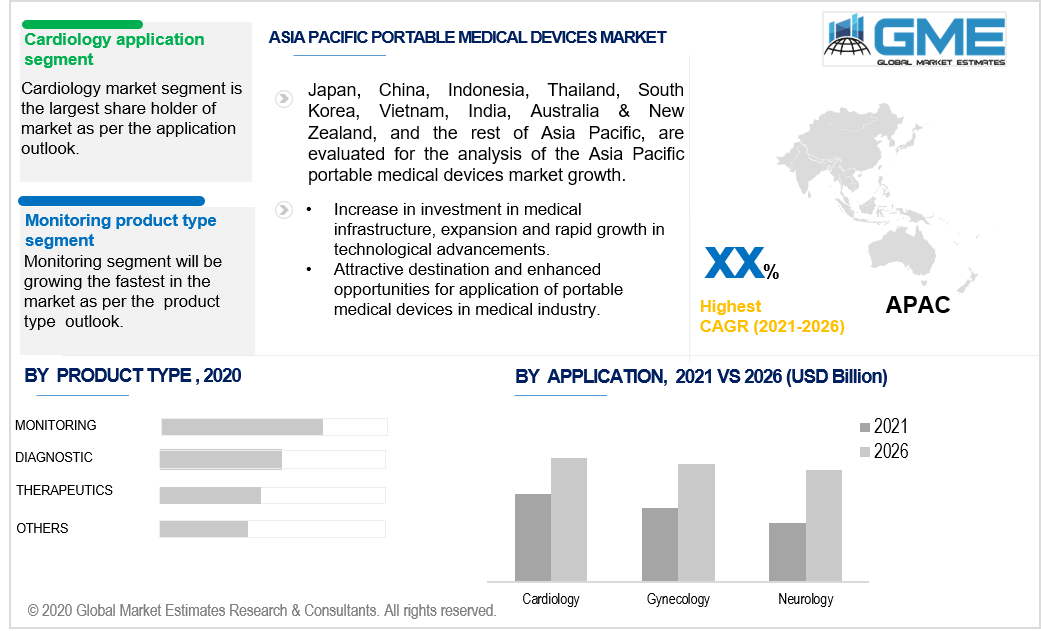 Portable Medical Devices Market: By Region
Based on the region, the North American region holds the dominating space for theportable medical devicesmarket. Owing to its massive adoption of technology,well-established R&D investments in health infrastructure, and growth in the use of mobile devices across medical institutions to facilitate maintenance of systematic records.
The Asia Pacific region and Europewill grow rapidly in the future period owing to themassive adoption of new technology in health infrastructureand increased penetration for the application of portable medical devicesin various verticals.
Portable Medical Devices Market Share and Competitor Analysis
Spacelabs Healthcare, Philips Healthcare, Roche Diagnostics, Carefusion Corporation, Covidien Plc,GE Healthcare,Abbott Laboratories, Omnivision Technologies, Infineon Technologies, Medtronic, Freescale Semiconductor Holdings, Renesas Electronics Corporation, Texas Instruments, LG Display, Natus Medical, Omron Healthcare, Samsung, Measurement Specialities,and others, are the major vendors competing in theportable medical devices market.
Please note: This is not an exhaustive list of companies profiled in the report.
In 2017, US FDA (US), launched AbilifyMyCite, a combination to amplify drug to treat bipolar disorder.
In 2018, GF Health Products (US), announced the merging with Intensa Inc. (US) in furniture capitals.
The Portable Medical Devices Market has been studied from the year 2019 till 2026. However, the CAGR provided in the report is from the year 2021 to 2026. The research methodology involved three stages: Desk research, Primary research, and Analysis & Output from the entire research process.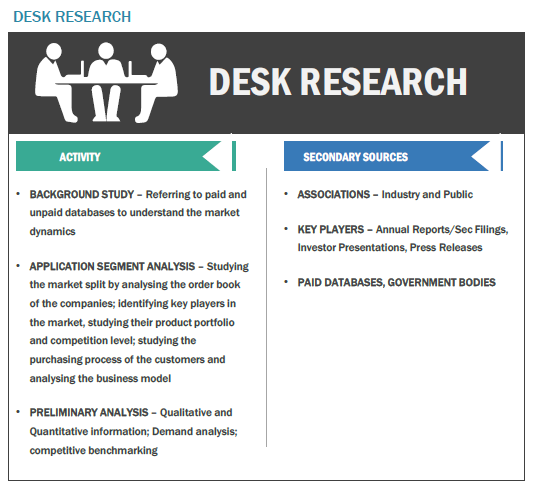 The desk research involved a robust background study which meant referring to paid and unpaid databases to understand the market dynamics; mapping contracts from press releases; identifying the key players in the market, studying their product portfolio, competition level, annual reports/SEC filings & investor presentations; and learning the demand and supply side analysis for the Portable Medical Devices Market.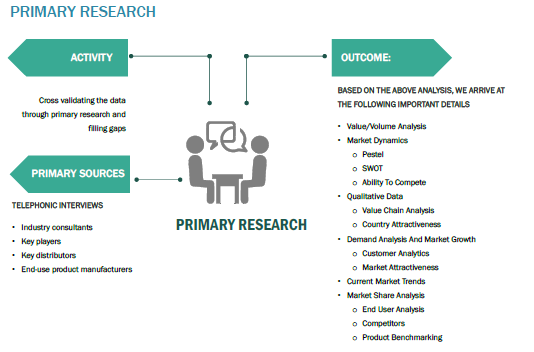 The primary research activity included telephonic conversations with more than 50 tier 1 industry consultants, distributors, and end-use product manufacturers.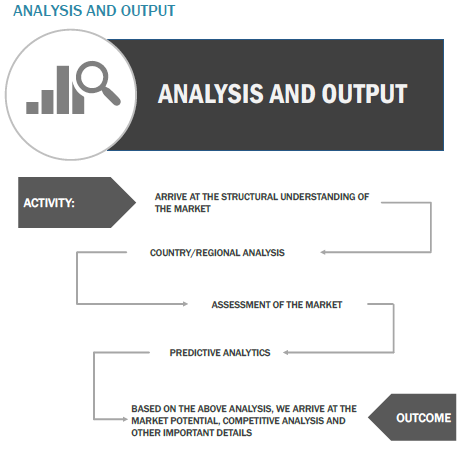 Finally, based on the above thorough research process, an in-depth analysis was carried out considering the following aspects: market attractiveness, current & future market trends, market share analysis, SWOT analysis of the company and customer analytics.