Railway Platform Security Market Size
The global railway platform security market generated USD 1.7 billion in 2019 and is projected to surpass USD 2.5 billion by 2026, growing at a CAGR of 5.6%.
Mass transit plays an extremely essential role in human life around the world, and this significance will only intensify as the population ages. Nevertheless, the transit sector has become increasingly prone to security threats in the past few years. Among the most, difficult challenges are safeguarding railway stations, where the rail sector must secure passengers, personnel, commodities, equipment, and assets from potential attacks. Managing them is tough due to the numerous places that must be supervised, including railroads, subterranean passages, bicycling and automotive parking areas, residences, baggage storage areas, and idle railway cars and locomotives.
Efforts are underway in the construction, expansion, and modernization of train stations, just as it is in many other sectors of life. Since most train stations have no mobility limits, sophisticated procedures for detecting all areas are necessary. Staff and passengers can have faith in the integrity of train stations and the railway system once these impediments are lifted. The rising number of suicides, the growing requirement to reduce the risk of unlawful access to platforms, and the increasing demands for additional support and advanced security management solutions are all projected to fuel market expansion.
The market is expected to develop due to factors such as the growing requirement to reduce the risk of illegal access to platforms and the rising demand for extra assistance and advanced security management solutions. Railway platform security mechanisms are also frequently used in railway traffic management to reduce vehicular accidents bottlenecks. The industry is estimated to boost as a result of government measures to enhance traffic management systems and passenger comfort. Also, intelligent transportation systems (ITS) are now being integrated into information and communication technologies to give extremely effective mobility services, such as traffic control and many others, providing novel security measures to tackle contemporary problems.
The absence of awareness about the benefits and risks regarding the deployment of these systems is hampering market expansion. Railway platform security firms are continuously contending with real security threats throughout the execution of affordable and robust cloud services.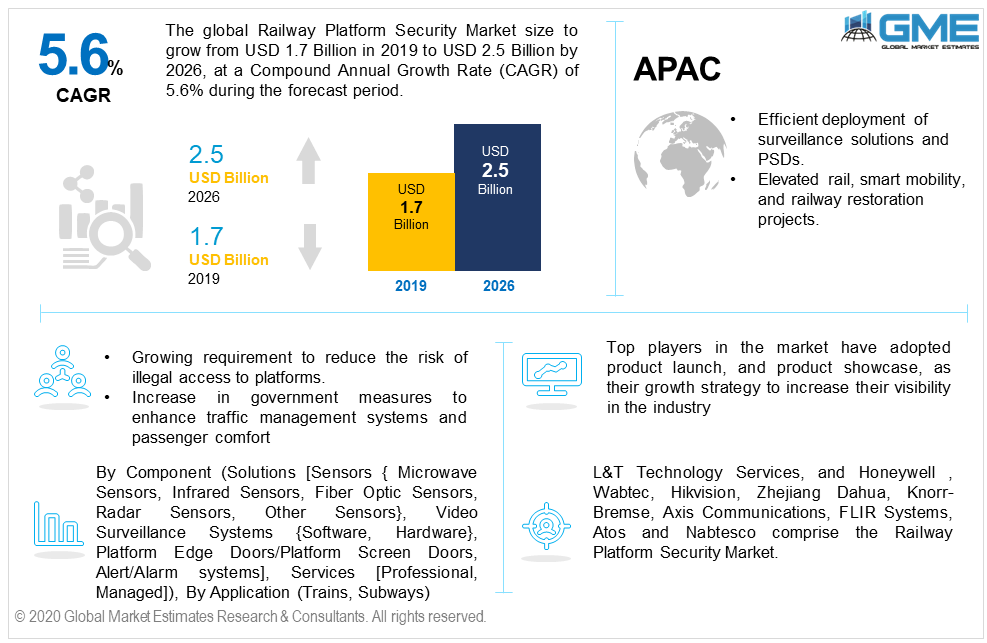 Railway Platform Security Market: By Component
The components are divided into two categories: solutions and services. The services segment, among the components, is predicted to grow at a CAGR of 6% over the forecast timeframe. The railway platform security solutions aid in the real-time detection and management of activities taking place on the platform. Further, underneath services, the professional services segment had a greater market share. Professional services are the services provided by professionals, specialists, or experts to assist organizations.
Professional services include design and implementation, and also ongoing maintenance. Professionals employ the most up-to-date techniques, comprehensive tactics, and expertise to ensure that the proper security solutions for railway platforms are implemented. They can also help with the deployment of security solutions by following industry best practices. Platform security systems' performance can be determined from how effectively technology is administered and how personnel throughout firms use agile methodologies in their regular tasks.
The platform edge doors/platform screen doors sector will increase at the fastest rate among solutions during the projected timeframe. Platform screen doors and platform edge doors conceal main terminal from carriage at rail and subways. They are a recent addition to several metro systems across the world, with some being renovated into existing systems. They are prevalent in Asian and European subway systems. Such systems are typically necessary if temperature control is the prime purpose, but they also provide security benefits as a bonus. PEDs are yet another type of system which does not entirely isolate the platform from the track. Rather, the PED design produces a full-height or half-height obstacle all along the platform edge, and it does so even without an airflow seal which is essential for optimal temperature control.
Railway Platform Security Market: By Type
By type, the industry is categorized into Trains and Subways. The trains segment is expected to expand at a faster pace. Rising ridership and limited resources, transit and rail systems must adapt to their dynamic environment and ensure safe and secure mobility solutions. External threats are increasingly infiltrating modern railway systems. Until recently, targeted attacks against control and safety systems were only envisaged on a rudimentary level. Due to an increase in external attacks and the potential for damage, these are no longer minor concerns and must be addressed fully to accommodate new technical breakthroughs. This progress is aided by the continuous digitalization and standardization of control command and signalling systems, which is motivated by railway operators' desire for improved performance and cheaper interlocking component prices. As a result, commercial off-the-shelf (COTS) components are becoming more common in the development of safety-critical components. Furthermore, conventional commercial network equipment and protocols are used, and the systems are connected via backbone networks to allow a single control center to control many track sections.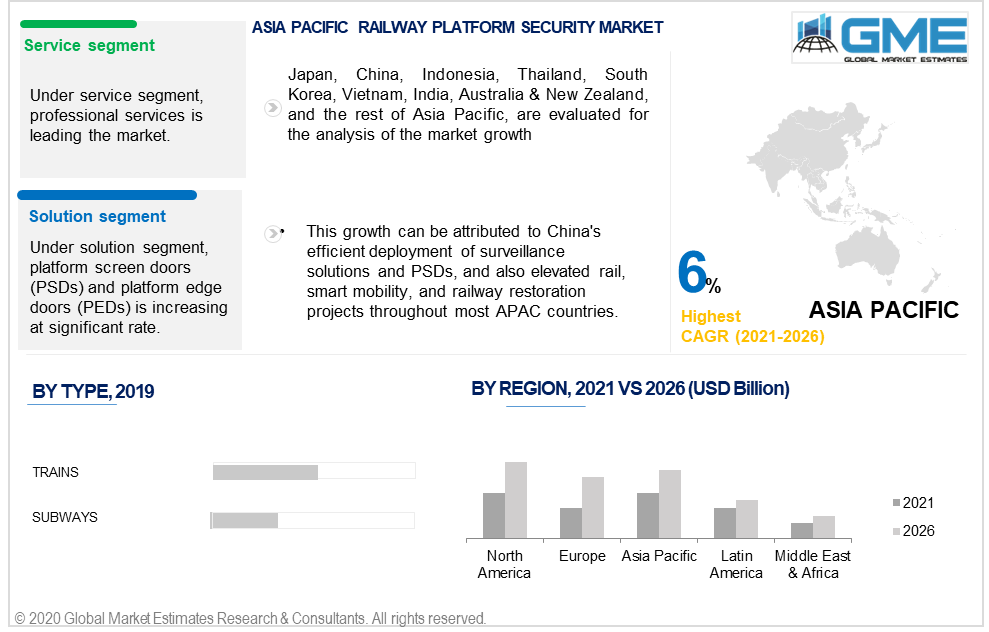 Railway Platform Security Market: By Region
During the projection period, APAC is reported to witness the largest market share and development potential. This growth can be attributed to China's efficient deployment of surveillance solutions and PSDs, and also elevated rail, smart mobility, and railway restoration projects throughout most APAC countries. Several other prospective in APAC economies, including China, Singapore, Australia, India, and South Korea are aggressively advancing in digitally advanced technologies.
North America is also anticipated to accelerate the global revenue share in the forthcoming years. Government rules for public safety and collision avoidance systems account for the biggest market share. Also, aspects such as the existence of significant market players and well-established establishments are fuelling overall growth. The market for railway platform security is booming as a consequence of enhanced acceptance of new technologies and increasingly rapid innovation in this region.
Railway Platform Security Market Share and Competitor Analysis
Several strategic collaborations have been formed in this sector, as well as other tactical initiatives such as diversification, engagement, mergers & acquisitions, and product and innovation releases. Top industry companies are investing a lot in research and development and also promoting their operations.
Anixter, Genetec, Senstar, Avnet, Mitsubishi Electric, Honeywell, L&T Technology Services, and Honeywell, Wabtec, STANLEY, Hikvision, Zhejiang Dahua, telent, Knorr-Bremse, Axis Communications, FLIR Systems, Atos, and Nabtesco comprise the majority of the company revenue market share.
Please note: This is not an exhaustive list of companies profiled in the report.
Chapter 1 Methodology
1.1 Market scope & definitions
1.2 Estimates & forecast calculation
1.3 Historical data overview and validation
1.4 Data sources
1.4.1 Secondary
1.4.2 Primary
Chapter 2 Report Outlook
2.1 Railway Platform Security System Industry overview, 2019-2026
2.1.1 Industry overview
2.1.2 Component overview
2.1.3 Application overview
2.1.4 End-User overview
2.1.5 Regional overview
Chapter 3 Trends
3.1 Market segmentation
3.2 Industry background, 2019-2026
3.3 Market key trends
3.3.1 Positive trends
3.3.2 Industry challenges
3.4 Prospective growth scenario
3.5 COVID-19 influence over industry growth
3.6 Porter's analysis
3.7 PESTEL analysis
3.8 Value chain & supply chain analysis
3.9 Regulatory framework
3.9.1 North America
3.9.2 Europe
3.9.3 APAC
3.9.4 LATAM
3.9.5 MEA
3.10 Technology overview
3.11 Market share analysis, 2019
3.11.1 Company positioning overview, 2019
Chapter 4 Railway Platform Security System, By Component
4.1 Component Outlook
4.2 Solutions
4.2.1 Sensors
4.2.1.1 Microwave Sensors
4.2.1.2 Infrared Sensors
4.2.1.3 Fiber Optic Sensors
4.2.1.4 Radar Sensors
4.2.1.5 Other Sensors
4.2.2 Video Surveillance Systems
4.2.2.1 Software
4.2.2.1.1 Intelligent Video Analytics
4.2.2.1.2 Video Management Software
4.2.2.2 Hardware
4.2.2.2.1 Camera
4.2.2.2.1.1 Analog Camera
4.2.2.2.1.2 IP Camera
4.2.2.2.2 Storage Device
4.2.3 Platform Edge Doors/Platform Screen Doors
4.2.4 Alert/Alarm Systems
4.3 Services
4.3.1 Professional Services
4.3.1.1 System Integration and Deployment
4.3.1.2 Support and Maintenance
4.3.2 Managed Services
Chapter 5 Railway Platform Security System, By Application
5.1 Component Outlook
5.2 Subways
5.2.1 Market size, by region, 2019-2026 (USD Million)
5.3 Railways
5.3.1 Market size, by region, 2019-2026 (USD Million)
Chapter 6 Railway Platform Security System, By Region
6.1 Regional outlook
6.2 North America
6.2.1 Market size, by country 2019-2026 (USD Million)
6.2.2 Market size, by Component, 2019-2026 (USD Million)
6.2.3 Market size, by Application, 2019-2026 (USD Million)
6.2.5 U.S.
7.2.5.1 Market size, by Component, 2019-2026 (USD Million)
7.2.5.2 Market size, by Application, 2019-2026 (USD Million)
6.2.6 Canada
7.2.6.1 Market size, by Component, 2019-2026 (USD Million)
7.2.6.2 Market size, by Application, 2019-2026 (USD Million)
6.2.7 Mexico
7.2.7.1 Market size, by Component, 2019-2026 (USD Million)
7.2.7.2 Market size, by Application, 2019-2026 (USD Million)
6.3 Europe
6.3.1 Market size, by country 2019-2026 (USD Million)
6.3.2 Market size, by Component, 2019-2026 (USD Million)
6.3.3 Market size, by Application, 2019-2026 (USD Million)
6.3.5 Germany
6.2.5.1 Market size, by Component, 2019-2026 (USD Million)
6.2.5.2 Market size, by Application, 2019-2026 (USD Million)
6.3.6 Spain
6.3.6.1 Market size, by Component, 2019-2026 (USD Million)
6.3.6.2 Market size, by Application, 2019-2026 (USD Million)
6.3.7 France
6.3.7.1 Market size, by Component, 2019-2026 (USD Million)
6.3.7.2 Market size, by Application, 2019-2026 (USD Million)
6.3.8 Italy
6.3.8.1 Market size, by Component, 2019-2026 (USD Million)
6.3.8.2 Market size, by Application, 2019-2026 (USD Million)
6.4 Asia Pacific
6.4.1 Market size, by country 2019-2026 (USD Million)
6.4.2 Market size, by Component, 2019-2026 (USD Million)
6.4.3 Market size, by Application, 2019-2026 (USD Million)
6.4.5 China
6.4.5.1 Market size, by Component, 2019-2026 (USD Million)
6.4.5.2 Market size, by Application, 2019-2026 (USD Million)
6.4.6 India
6.4.6.1 Market size, by Component, 2019-2026 (USD Million)
6.4.6.2 Market size, by Application, 2019-2026 (USD Million)
6.4.7 Malaysia
6.4.7.1 Market size, by Component, 2019-2026 (USD Million)
6.4.7.2 Market size, by Application, 2019-2026 (USD Million)
6.4.8 Australia
6.4.8.1 Market size, by Component, 2019-2026 (USD Million)
6.4.8.2 Market size, by Application, 2019-2026 (USD Million)
6.4.9 South Korea
6.4.9.1 Market size, by Component, 2019-2026 (USD Million)
6.4.9.2 Market size, by Application, 2019-2026 (USD Million)
6.5 Central & South America
6.5.1 Market size, by country 2019-2026 (USD Million)
6.5.2 Market size, by Component, 2019-2026 (USD Million)
6.5.3 Market size, by Application, 2019-2026 (USD Million)
6.5.5 Brazil
6.5.5.1 Market size, by Component, 2019-2026 (USD Million)
6.5.5.2 Market size, by Application, 2019-2026 (USD Million)
6.5.6 Argentina
6.5.6.1 Market size, by Component, 2019-2026 (USD Million)
6.5.6.2 Market size, by Application, 2019-2026 (USD Million)
6.6 MEA
6.6.1 Market size, by country 2019-2026 (USD Million)
6.6.2 Market size, by Component, 2019-2026 (USD Million)
6.6.3 Market size, by Application, 2019-2026 (USD Million)
6.6.5 Saudi Arabia
6.6.5.1 Market size, by Component, 2019-2026 (USD Million)
6.6.5.2 Market size, by Application, 2019-2026 (USD Million)
6.6.6 UAE
6.6.6.1 Market size, by Component, 2019-2026 (USD Million)
6.6.6.2 Market size, by Application, 2019-2026 (USD Million)
6.6.7 South Africa
6.6.7.1 Market size, by Component, 2019-2026 (USD Million)
6.6.7.2 Market size, by Application, 2019-2026 (USD Million)
Chapter 7 Company Landscape
7.1 Competitive analysis, 2019
7.2 Honeywell
7.2.1 Company overview
7.2.2 Financial analysis
7.2.3 Strategic positioning
7.2.4 Infographic analysis
7.3 Indra Sistemas
7.3.1 Company overview
7.3.2 Financial analysis
7.3.3 Strategic positioning
7.3.4 Infographic analysis
7.4 Huawei
7.4.1 Company overview
7.4.2 Financial analysis
7.4.3 Strategic positioning
7.4.4 Infographic analysis
7.5 Bosch
7.5.1 Company overview
7.5.2 Financial analysis
7.5.3 Strategic positioning
7.5.4 Infographic analysis
7.6 ATOS
7.6.1 Company overview
7.6.2 Financial analysis
7.6.3 Strategic positioning
7.6.4 Infographic analysis
7.7 FLIR Systems
7.7.1 Company overview
7.7.2 Financial analysis
7.7.3 Strategic positioning
7.7.4 Infographic analysis
7.8 Axis Communications
7.8.1 Company overview
7.8.2 Financial analysis
7.8.3 Strategic positioning
7.8.4 Infographic analysis
7.9 Telent
7.9.1 Company overview
7.9.2 Financial analysis
7.9.3 Strategic positioning
7.9.4 Infographic analysis
7.10 Dahua Technology
7.10.1 Company overview
7.10.2 Financial analysis
7.10.3 Strategic positioning
7.10.4 Infographic analysis
7.11 Hikvision
7.11.1 Company overview
7.11.2 Financial analysis
7.11.3 Strategic positioning
7.11.4 Infographic analysis
7.12 STANLEY Access Technology
7.12.1 Company overview
7.12.2 Financial analysis
7.12.3 Strategic positioning
7.12.4 Infographic analysis
7.13 WabTec Corporation
7.13.1 Company overview
7.13.2 Financial analysis
7.13.3 Strategic positioning
7.13.4 Infographic analysis
7.14 L&T Technology Services
7.14.1 Company overview
7.14.2 Financial analysis
7.14.3 Strategic positioning
7.14.4 Infographic analysis
7.15 Mitsubishi Electric
7.15.1 Company overview
7.15.2 Financial analysis
7.15.3 Strategic positioning
7.15.4 Infographic analysis
7.16 Genetec
7.16.1 Company overview
7.16.2 Financial analysis
7.16.3 Strategic positioning
7.16.4 Infographic analysis
7.17 Knorr-Bremse
7.17.1 Company overview
7.17.2 Financial analysis
7.17.3 Strategic positioning
7.17.4 Infographic analysis
7.18 Nabtesco
7.18.1 Company overview
7.18.2 Financial analysis
7.18.3 Strategic positioning
7.18.4 Infographic analysis
7.19 Senstar
7.19.1 Company overview
7.19.2 Financial analysis
7.19.3 Strategic positioning
7.19.4 Infographic analysis
7.20 Avnet
7.20.1 Company overview
7.20.2 Financial analysis
7.20.3 Strategic positioning
7.20.4 Infographic analysis
7.21 Anixter
7.21.1 Company overview
7.21.2 Financial analysis
7.21.3 Strategic positioning
7.21.4 Infographic analysis