Single Cell Analysis Market: Insights
A living tissue consists of millions of cells, with a genetically homogenous identity. However, these cells have way more distinct and heterogeneous traits. Studying these cells individually makes it an essential part to understand the whole population of living organisms, their survival instincts, their characteristic nature, and their responses to environmental changes. That's when the single-cell analysis comes into the picture.
The Single Cell Analysis enables the researcher to have a cell-by-cell study of a molecular population. The Single Cell Analysis market has witnessed an upward growth trend due to its recent advancements and ability to quantify details within a single cell. The biotechnological and pharmaceutical industry has gradually shifted its attention to enhancing its research base. Individual Cell-based testing supports various critical researches and identifies necessary loopholes and required majors to overcome them. Single-cell analysis has assisted biotechnological and pharmaceutical researchers to identify and detect rare cells of critical diseases like cancer and tumor. A genetic diagnosis is essential to up the scale of medical research in any country.
In recent periods, many organizations like National Center for Biotechnology Information (NCBI), have been encouraging cell diagnosis. Along with such branches of institutes, the government of many countries is supporting these essential researches by giving funds and adapting new technological advancements. The rising number of infectious diseases is also compelling the researchers to go into the depth of them and analyze the causes.
With gained importance, the single-cell analysis is being undertaken by many research institutes, however, its ability to provide significantly minute details for research purposes is resulting in increased execution costs. Along with the high execution costs, researchers also find it difficult to maintain the true nature of the cells in isolation. These cells are highly vulnerable to the environmental nature and isolation causing distress in their distinct traits, resulting in unnatural research conclusions.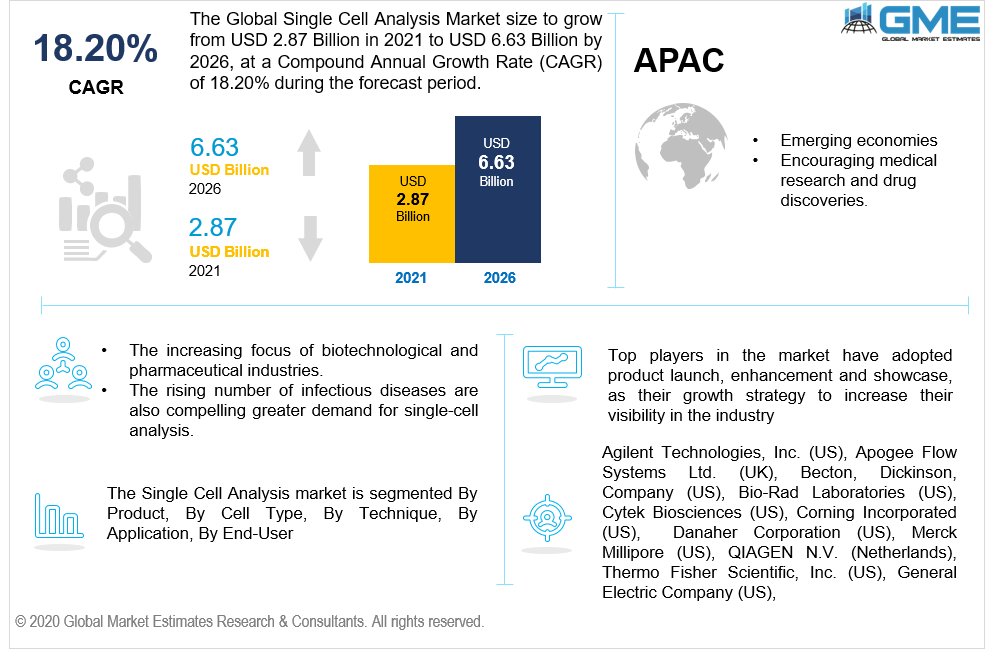 Single Cell Analysis Market: By Product
Single Cell analysis requires a lot of pre-requisites products to undertake the diagnostic procedures. These products mainly consist of Consumables (Assay Kits, Cell-based Assays, Beads, Immunoassays, Microplates, Reagents, Other Consumables) and Instruments (PCR Instruments, Microarrays, Flow Cytometers, NGS Systems, Cell Counters, Microscopes, HCS Systems, Spectrophotometers, and Other Instruments). Researchers require consumable products very often for analysis purposes. Unlike one-time demand and investments in the instruments, the demand for consumables for research purposes is constantly rising. Investment in instruments like PCR equipment, microscopes, and other systems has long-term returns and warranty periods. Whereas consumables like microplates, assay kits, and other necessities need to be replaced by new ones before a new diagnosis.
Single Cell Analysis Market: By Cell Type
Based on the cell type, the market is categorized and explained into three cell types, namely, Human Cell, Microbial Cell, and Animal Cell. Human cells are used the most for carrying out single-cell analysis compared to animal cells, about their high relevance in understanding the physiological and morphological properties. Analyzing human cells give a better understanding of human health and required measures for it. This relevance assists in determining the progression of the disease, drug identification, and other procedures.
Single Cell Analysis Market: By Technique
Researches use various techniques to analyze the single cell. Some of the commonly used techniques include Flow Cytometry, Mass Spectrometry, Next-generation Sequencing, Microscopy, and Polymerase Chain Reaction among others. The Next-Generation Sequencing technique gives its researchers a more practical viewpoint than other techniques. Next-generation sequencing enables the researchers to study the whole genome in one go. Single sequencing experimentation is capable of analyzing a couple of thousands of genomes in one year.
Single Cell Analysis Market: By Application
Based on the application, the market is segregated into Research Applications, & Medical applications. The research application segment is further explained into Cancer, Stem Cell, Immunology, and Neurology among others. The research segment will register a maximum growth between 2021-2026. Various health ministries in countries across the world, along with WHO and other international health agencies like UNESCO are bringing in more focus on research applications and their benefits. Various universities and institutes are also emphasizing more on research application to get a deeper knowledge of disease progressions like cancer or tumor.
Single Cell Analysis Market: By End User
The Academic and research laboratories exercise single-cell analysis quite frequently to deepen their roots into the R&D field. This qualifies them to hold various patents and gain scientific achievements. International health agencies have been encouraging various academic and research laboratories in different to expand their research base, thus reaching new peaks in the field of biotechnology and medical science. The increasing spread of contagious and infectious diseases/viruses has also brought in the necessity to develop the research base within different countries.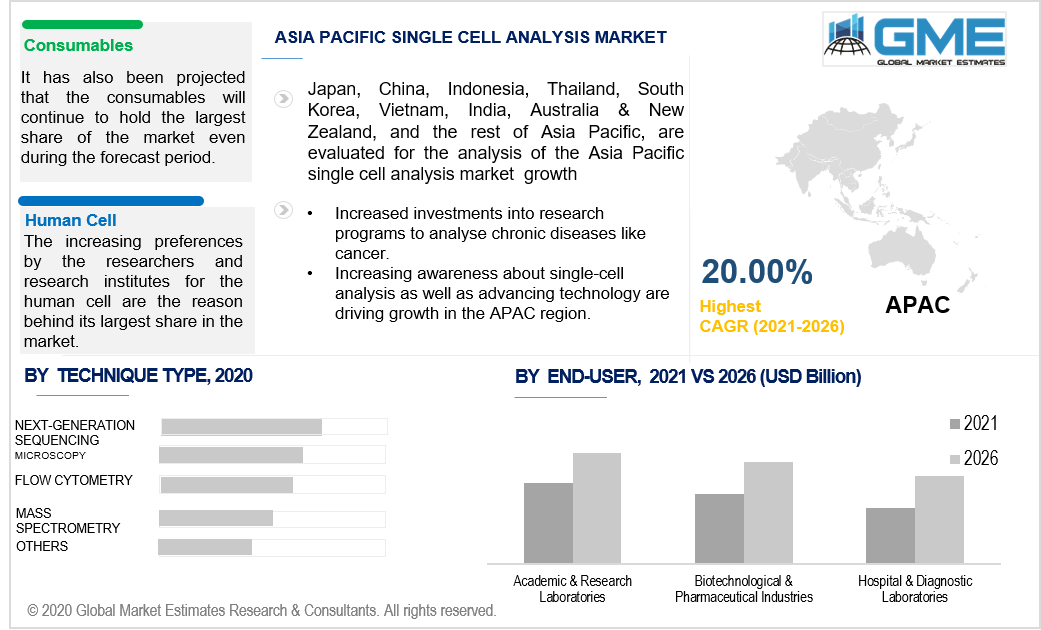 Single Cell Analysis Market: By Region
Asia-Pacific region has successfully expanded its research base through undertaking various techniques of single-cell analysis. Emerging countries like China have a stronghold on biotechnological and pharmaceutical industries thus, contributing a lot to the single-cell analysis market. The governmental organization of the countries in the APAC region has been encouraging medical research and drug discoveries. WHO, UNESCO, and other health agencies have recognized the potential of the APAC region and its strength in research and development, thus encouraging more investments and funds into this market. This support from reputed organizations has drawn the attention of various investors into this market facilitating required funds and required types of equipment/instruments to the research institutes and laboratories.
Single Cell Analysis Market: By Share & Competitor Analysis
Agilent Technologies, Inc. (US), On-chip Biotechnologies Co., Ltd., bioMérieux SA (France), NanoCellect Biomedical, Apogee Flow Systems Ltd. (UK), Oxford Nanopore Technologies (UK), Becton, Dickinson, Company (US), Luminex Corporation (US), Bio-Rad Laboratories (US), Menarini Silicon Biosystems, Inc., Cytek Biosciences (US), Fluxion Biosciences, Corning Incorporated (US), 10x Genomics, Sartorius AG (Germany), Takara Bio, Danaher Corporation (US), Fluidigm Corporation (US), Tecan Group Ltd. (Switzerland), Illumina, Inc. (US), Merck Millipore (US), Promega Corporation (US), QIAGEN N.V. (Netherlands), General Electric Company (US), and Thermo Fisher Scientific, Inc. (US) among others are few players in the market
Please note: This is not an exhaustive list of companies profiled in the report.
In November 2019, QIAGEN announced its new launch called QIAseq Multimodal Panels. This new panel was launched to analyze targeted RNA and DNA. These panels are time-efficient and cost-effective.
In July 2019, QIAGEN signed an agreement with Illumina to widen the scope of NGS-based (IVD) kits.
In June 2019, Beckman Coulter took over the company Cytobank, Inc. (US) to bring in new helpful solutions for the customer base.
The Single Cell Analysis Market has been studied from the year 2019 till 2026. However, the CAGR provided in the report is from the year 2021 to 2026. The research methodology involved three stages: Desk research, Primary research, and Analysis & Output from the entire research process.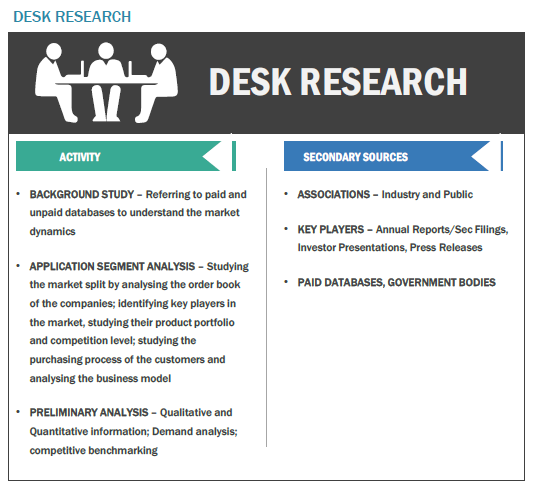 The desk research involved a robust background study which meant referring to paid and unpaid databases to understand the market dynamics; mapping contracts from press releases; identifying the key players in the market, studying their product portfolio, competition level, annual reports/SEC filings & investor presentations; and learning the demand and supply-side analysis for the Single Cell Analysis Market.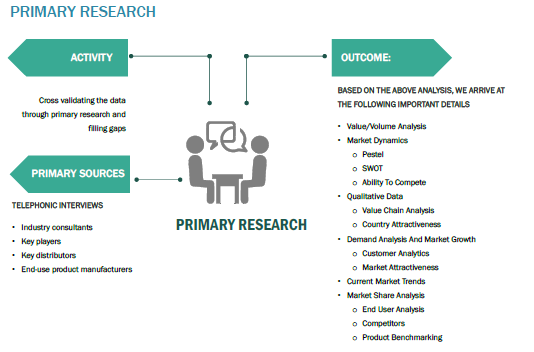 The primary research activity included telephonic conversations with more than 50 tier 1 industry consultants, distributors, and end-use product manufacturers.
Finally, based on the above thorough research process, an in-depth analysis was carried out considering the following aspects: market attractiveness, current & future market trends, market share analysis, SWOT analysis of the company and customer analytics.