Market Analysis:
The ocean can be used as one of the inexhaustible and largest source for sustainable power generation. Waves & tides are used to harness energy from the ocean. They are relatively new forms power generation and are at its nascent stage when it comes to the technology and penetration in the market.
Growing research & development projects undertaken by the governments across the world concentrate on clean energy solutions. This market is projected to observe growth in terms of technological advancements, rise installed capacity, and investment in the near future. Private investments an favourable government support is anticipated to augment market growth.
Shiwa Lake Tidal Power Station in South Korea is presently the largest station operating at optimum capacity. The Ocean Race campaign setup by the RenewableUK aims at strengthening governmental support to this market in the UK.
Some of the challenges faced by the market are high cost of prototype development to suit ocean waters, volatile climatic conditions prevailing at sea, environmental disruptions, and high maintenance cost.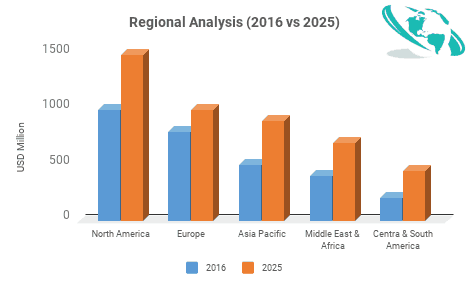 Type Insights:
Tide energy can further be segmented into stream and range energy. Tidal range requires the construction of a tidal barrage to capture hydropower through hydro turbines inside the structure. Some of the locations with high range includes Bay of Fundy (Canada), Bristol Channel and Cardiff Bay (UK), Normandy (France), Magellan Strait (Argentina & Chile), and Cook Inlet (U.S.). Tidal stream generates power through downstream speed and tides in rivers. The capacity of Shiwa Lake Tidal Power Station is 254MW.
This source of energy can be used to generate electricity for a remote location where the other modes such as drawing grid connections are not feasible and cost effective. The industry requires high capital investment and technological advancements to prosper in the future. Capacity up-scaling and technological innovations are expected to create a large market for this industry.
Regional Insights:
An increased number of projects are being announced in Europe such as the MeyGen tidal array project in Scotland and Swansea Bay tidal lagoon. Europe it anticipated to observe escalating growth in the market due to the old and new projects, encouraging regulatory frame work, and potential sites creating scope for small & large plants.
Growing crude oil production has increased the demand for electricity which is expected to influence the market positively. In the Gulf of Mexico and the North Sea, the exploration of crude oil extraction has resulted in the demand for cheap electricity. These factors are expected to drive demand for marine power solutions over the coming years.
In August 2016, the Energy Department announced funding of USD 20 million for 10 organisations that can be used for research, demonstration and development of projects that monitor marine and hydrokinetic (MHK) power systems. Significant growth is also expected over the forecast period in Australia due to the growing investment towards renewable resources and reducing fossil fuel consumption. Australian Climate Change Authority proposed to meet 65% emission-free sources for electricity production by 2030.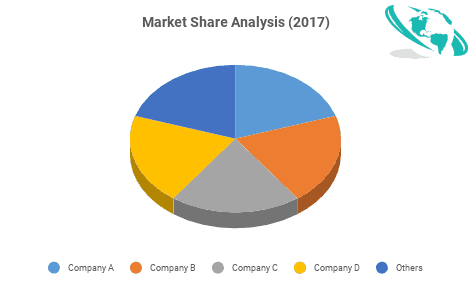 Competitor Analysis:
The scaling demand for electricity is the most important factor that is expected to contribute to the growth of the market. The other reason for this industry to do well is the reducing demand for natural gas and coal consumption and rising environmental concern. This provides growth opportunity to natural resources which are cleaner and sustainable.
The leading operators in the industry are Pelamis Wave Power Ltd., Ocean Renewable Power Company LLC, AquaGen, AquaGen Technologie, Aquamarine Power Ltd, Carnegie Wave Energy Ltd., Marine Current Turbines Ltd., Tenax Energy, Atlantis Resources Ltd., and S.D.E. Energy Ltd.
Please note: This is not an exhaustive list of companies profiled in the report.
1 RESEARCH METHODOLOGY
1.1 DESK RESEARCH
1.2 PRIMARY RESEARCH
1.3 ANALYSIS AND OUTPUT
1.4 FINAL OUTPUT FROM DESK AND PRIMARY RESEARCH
2 ECOSYSTEM OVERVIEW
3 TECHNOLOGICAL TRENDS IN WAVE AND TIDAL ENERGY MARKET
4 DEMAND AND SUPPLY MATRIX
4.1 INTRODUCTION
4.2 DEMAND SIDE ANALYSIS
4.2.1 WAVE AND TIDAL ENERGY MARKET: MARKET DRIVERS
4.2.2 WAVE AND TIDAL ENERGY MARKET: MARKET RESTRAINTS
4.2.3 WAVE AND TIDAL ENERGY MARKET: MARKET OPPORTUNITIES
4.2.4 WAVE AND TIDAL ENERGY MARKET: MARKET CHALLENGES
4.3 SUPPLY SIDE ANALYSIS
4.3.1 FUTURE SCENARIO (CAGR% VS. COUNTRY)
4.3.2 MAPPING KEY WAVE AND TIDAL ENERGY MARKET MANUFACTURERS
4.3.3 PORTER'S FIVE FORCES ANALYSIS
4.3.3.1 Threat of new entrants
4.3.3.2 Threat of substitutes
4.3.3.3 Bargaining power of buyers
4.3.3.4 Bargaining power of suppliers
4.3.3.5 Intensity of competitive rivalry
4.3.4 WAVE AND TIDAL ENERGY MARKET: TREND ANALYSIS
4.4 PESTLE ANALYSIS
4.5 IMPACT ANALYSIS
4.6 PATENT LISTING
4.7 BEHAVIOURAL ANALYSIS
4.7.1 KEY MACRO INDICATORS
4.7.2 KEY MICRO INDICATORS
5 REGULATORY FRAMEWORK
6 WAVE AND TIDAL ENERGY MARKET, BY TYPE
6.1 INTRODUCTION
6.2 WAVE ENERGY
6.3 TIDAL ENERGY
7 WAVE AND TIDAL ENERGY MARKET, BY REGION
7.1 INTRODUCTION
7.2 NORTH AMERICA
7.2.1 BY TYPE
7.2.2 BY COUNTRY
7.2.2.1 U.S.
7.2.2.1.1 By type
7.2.2.2 Canada
7.2.2.2.1 By type
7.3 EUROPE
7.3.1 BY TYPE
7.3.2 BY COUNTRY
7.3.2.1 UK
7.3.2.1.1 By type
7.3.2.2 Russia
7.3.2.2.1 By type
7.3.2.3 France
7.3.2.3.1 By type
7.4 ASIA PACIFIC
7.4.1 BY TYPE
7.4.2 BY COUNTRY
7.4.2.1 CHINA
7.4.2.1.1 By type
7.4.2.2 INDIA
7.4.2.2.1 By type
7.4.2.3 SOUTH KOREA
7.4.2.3.1 By type
7.5 CENTRAL & SOUTH AMERICA
7.5.1 BY TYPE
7.5.2 BY COUNTRY
7.5.2.1 BRAZIL
7.5.2.1.1 By type
7.6 MIDDLE EAST & AFRICA
7.6.1 BY TYPE
7.6.2 BY COUNTRY
7.6.2.1 SOUTH AFRICA
7.6.2.1.1 By type
8 VENDOR LANDSCAPE (SUPPLIERS/MANUFACTURERS/DISTRIBUTORS)
8.1 NORTH AMERICA
8.2 EUROPE
8.3 ASIA-PACIFIC
8.4 REST OF THE WORLD
9 COMPANY PROFILE
9.1 PELAMIS WAVE POWER
9.1.1 BUSINESS DESCRIPTION
9.1.2 FINANCIAL PERFORMANCE
9.1.3 SWOT ANALYSIS
9.1.4 PRODUCTS AND SERVICES OFFERED
9.1.5 STRATEGIC INITIATIVES
9.2 S.D.E ENERGY LTD. (WERPO)
9.2.1 BUSINESS DESCRIPTION
9.2.2 FINANCIAL PERFORMANCE
9.2.3 SWOT ANALYSIS
9.2.4 PRODUCTS AND SERVICES OFFERED
9.2.5 STRATEGIC INITIATIVES
9.3 TENAX ENERGY
9.3.1 BUSINESS DESCRIPTION
9.3.2 FINANCIAL PERFORMANCE
9.3.3 SWOT ANALYSIS
9.3.4 PRODUCTS AND SERVICES OFFERED
9.3.5 STRATEGIC INITIATIVES
9.4 AQUAGEN TECHNOLOGIES
9.4.1 BUSINESS DESCRIPTION
9.4.2 FINANCIAL PERFORMANCE
9.4.3 SWOT ANALYSIS
9.4.4 PRODUCTS AND SERVICES OFFERED
9.4.5 STRATEGIC INITIATIVES
9.5 ATLANTIS RESOURCES LTD.
9.5.1 BUSINESS DESCRIPTION
9.5.2 FINANCIAL PERFORMANCE
9.5.3 SWOT ANALYSIS
9.5.4 PRODUCTS AND SERVICES OFFERED
9.5.5 STRATEGIC INITIATIVES
9.6 AQUAMARINE POWER LTD..
9.6.1 BUSINESS DESCRIPTION
9.6.2 FINANCIAL PERFORMANCE
9.6.3 SWOT ANALYSIS
9.6.4 PRODUCTS AND SERVICES OFFERED
9.6.5 STRATEGIC INITIATIVES
9.7 CARNEGIE WAVE ENERGY
9.7.1 BUSINESS DESCRIPTION
9.7.2 FINANCIAL PERFORMANCE
9.7.3 SWOT ANALYSIS
9.7.4 PRODUCTS AND SERVICES OFFERED
9.7.5 STRATEGIC INITIATIVES
9.8 OCEAN POWER TECHNOLOGY INC.
9.8.1 BUSINESS DESCRIPTION
9.8.2 FINANCIAL PERFORMANCE
9.8.3 SWOT ANALYSIS
9.8.4 PRODUCTS AND SERVICES OFFERED
9.8.5 STRATEGIC INITIATIVES
9.9 MARINE CURRENT TURBINE LTC
9.9.1 BUSINESS DESCRIPTION
9.9.2 FINANCIAL PERFORMANCE
9.9.3 SWOT ANALYSIS
9.9.4 PRODUCTS AND SERVICES OFFERED
9.9.5 STRATEGIC INITIATIVES
9.10 OCEAN RENEWABLE POWER COMPANY LIC
9.10.1 BUSINESS DESCRIPTION
9.10.2 FINANCIAL PERFORMANCE
9.10.3 SWOT ANALYSIS
9.10.4 PRODUCTS AND SERVICES OFFERED
9.10.5 STRATEGIC INITIATIVES
The global wave and tidal energy market report has been studied from the year 2016 till 2025. However, the CAGR provided in the market study is from the year 2017 to 2025. The market research method involved three stages: Desk research, Primary survey research, and Analysis & Output from the entire research process.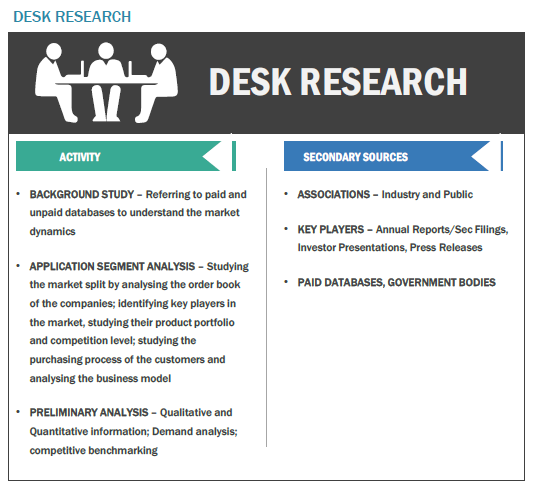 The desk research involved a robust background study which meant referring to paid and unpaid databases to understand the industry analysis; industry trends; market analysis; market trends; market dynamics; mapping contracts from press releases; identifying the key players in the market, studying their product portfolio, competition level, annual reports/SEC filings & investor presentations; and learning the demand and supply side analysis for the wave and tidal energy market.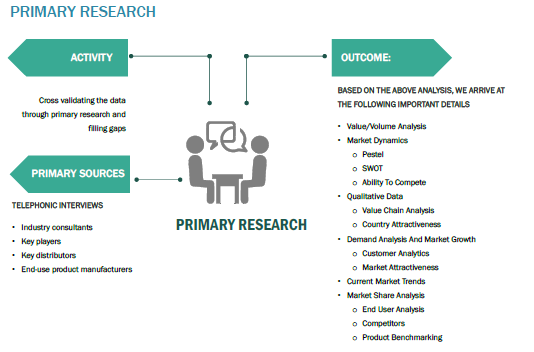 The primary research activity included telephonic conversations with more than 50 tier 1 industry consultants, VPs, CEOs, COOs, financial consultants, business consultants, strategy consultants, project management consultants, business management consultants, distributors, and end-use product manufacturers.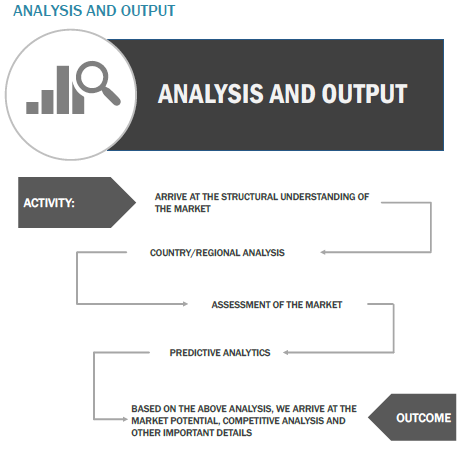 Finally, based on the above thorough research process, an in-depth analysis was carried out considering the following aspects: demand forecasting, market attractiveness, current & future market trends, market share analysis, SWOT analysis of the companies, and customer analytics.