Wheat Starch Market Size
Wheat starch, a white powdered material derived from processing wheat grains belonging to the Triticum genus has gained high popularity among food and non-food applications in recent years. The product is derived by extracting the proteins from flour, which is produced in large quantities as a food additive, thickening agent, and active component in creating various dishes. The product is often used to improve the texture, adhesion, viscosity, gel formation, binding, and moisture retention of several food products, as they are an effective stabilizer, emulsifier, fat substitute, and glazing agent in food applications. Apart from food applications, the product has a wide range of applications in the paper and textile sectors.
The global wheat starch market size generated more than USD 1.1 Billion in revenue in 2019 and is projected to surpass USD 1.2 Billion by 2026. The market will witness more than 2.3% CAGR from 2021 to 2026.
Rapid population expansion along with increasing consumer health consciousness, resulting in increased demand for low-calorie sweeteners and gluten-free foods, will positively influence the overall wheat starch market growth. Because of its vast range of applications in numerous industries, the product has become one of the essential agro-based industrial commodities. Even though extracting starch is a difficult process that involves many phases such as steeping, recovering by-products, and so on, the wheat starch market is experiencing considerable expansion due to rising demand from diversified industries.
The material is also increasingly being used to formulate various skincare and personal care products owing to its ability to absorb excess oil and pollutants from the skin effectively. This has resulted in its application in producing face masks and body cleansers. The product is successfully adopted as a sizing agent and manufacturing component in the textile and paper sectors.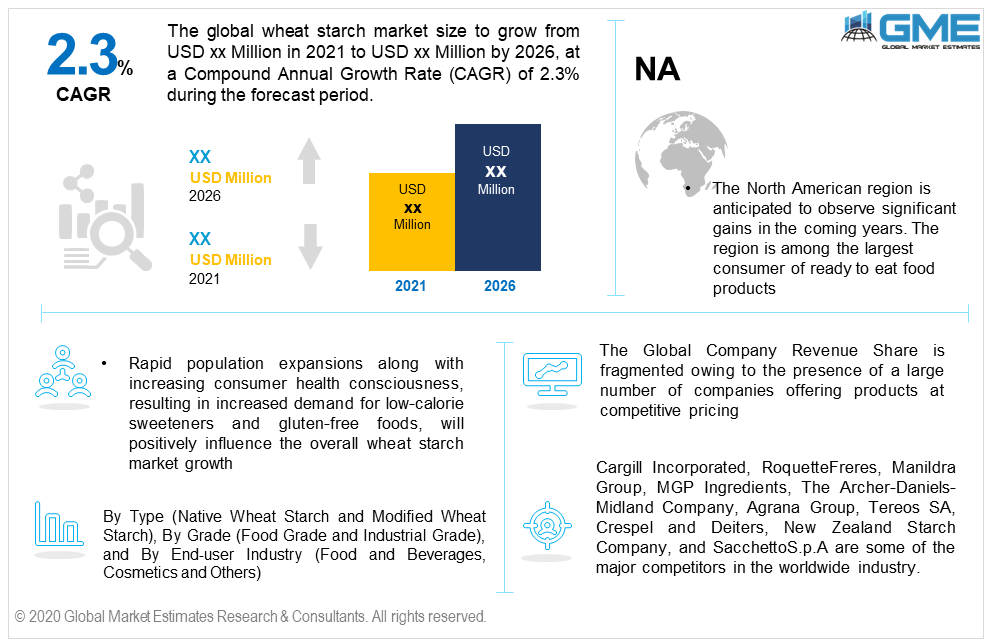 Wheat Starch Market: By Type
Native Wheat Starch and Modified Wheat Starch are two commonly commercialized product types in the industry. Native product type is a carbohydrate that is produced by physically extracting gluten and other proteins. In solid dosage formulations, the product is being investigated as a binder and disintegrant. It is also used to thicken custards, sweets, sauces, and fast foods, among other things. Confectionery, bread & snack items, dairy products, sauces & soups, alcoholic beverages, pasta, prepared foods, and seafood & meat are some of the major applications where the product is highly used.
The product which is altered physically, enzymatically, or chemically modifying to change its fundamental qualities produces are termed as modified wheat starch. These product types are frequently used in foods that claim to be "instant" and in foods that require a specific temperature to thicken (during cooking or freezing).
Researchers and pharmacists worldwide are working to uncover the potential of these advanced products and materials in pharmaceutical formulations to take advantage of their improved functionality and applicability.
The difference between the two product types is that the moisture content of the modified one is higher and contains a higher amount of amylose than its native form. As a result, the modified product category is increasingly used as immediately compressible excipients in the pharmaceutical industry, propelling the overall industry growth.
Wheat Starch Market: By Grade
By grade segment, the industry is categorized into industrial and food grade. The food grade dominated the overall grade segment in 2019. High demand for stabilizers, texturizers, and thickeners in the food industry will support the market growth in this segment. Puddings, soups, sauces, and pie fillings are key end products where these ingredients are widely used. While Industrial grade is primarily intended for commercial use, this grade is used in factories, building sites, supermarkets, and entertainment studios for several applications.
Wheat Starch Market: By End-User
The market comprises three end-use industries: food & beverages, cosmetics, and others. The food & beverages industry lead the overall revenue share and held the maximum sales in 2019. The ingredient is widely used as a thickening agent across various food processing categories. Furthermore, its capacity to inhibit dough elasticity is most generally utilized as a thickening, food additive, and active ingredient in various applications. It also aids in meals binding and is utilized to create gluten-free and low-calorie foods.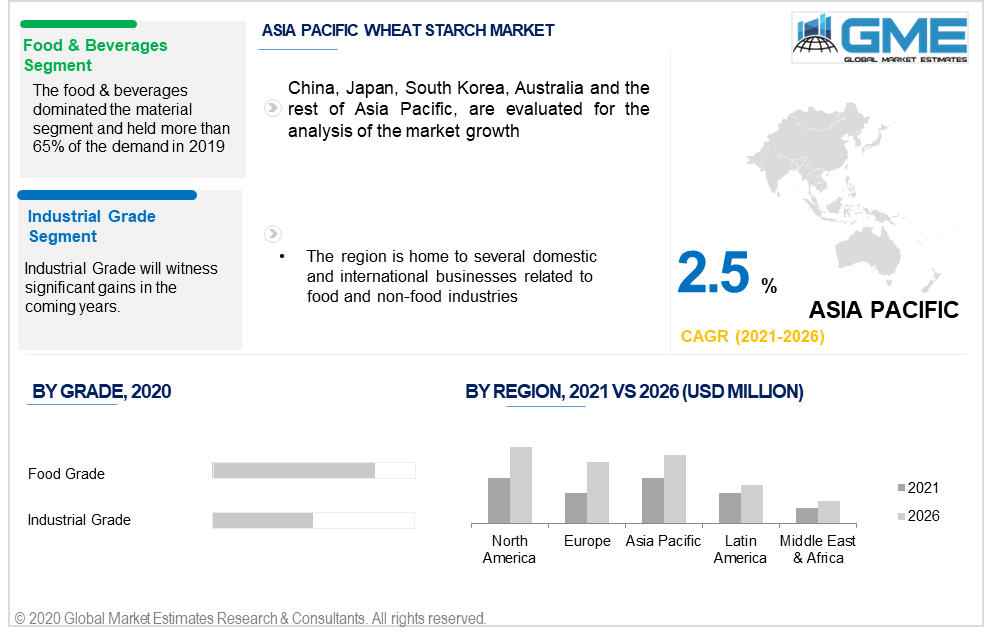 Wheat Starch Market: By Region
The Asia Pacific region accounted for the highest demand and will continue to hold largest consumption by 2026. The region is home to several domestic and international businesses related to food and non-food industries.
China led the regional demand in 2019, and will endure this domination till 2026. The country's domination is largely due to increased spending by enterprises on the creation of novel wheat starch products and the country's well-established food and beverage sector.
Global wheat starch Market Share and Competitor Analysis
RoquetteFreres, Cargill Incorporated, Manildra Group, The Archer-Daniels-Midland Company, MGP Ingredients, Agrana Group, Crespel and Deiters, Tereos SA, SacchettoS.p.A, and New Zealand Starch Company are some of the major competitors in the worldwide industry. These businesses are using new product development and mergers & acquisitions methods to extend their consumer base and obtain considerable market share worldwide, allowing them to keep their brand identity.
Please note: This is not an exhaustive list of companies profiled in the report.
Chapter 1 Methodology
1.1 Market scope & definitions
1.2 Estimates & forecast calculation
1.3 Historical data overview and validation
1.4 Data sources
1.4.1 Secondary
1.4.2 Primary
Chapter 2 Report Outlook
2.1 Wheat Starch industry overview, 2019-2026
2.1.1 Industry overview
2.1.2 Type overview
2.1.3 Grade overview
2.1.4 End-User overview
2.1.5 Regional overview
Chapter 3 Wheat Starch Market Trends
3.1 Market segmentation
3.2 Industry background, 2019-2026
3.3 Market key trends
3.3.1 Positive trends
3.3.2 Industry challenges
3.4 Prospective growth scenario
3.5 COVID-19 influence over industry growth
3.6 Porter's analysis
3.7 PESTEL analysis
3.8 Value chain & supply chain analysis
3.9 Regulatory framework
3.9.1 North America
3.9.2 Europe
3.9.3 APAC
3.9.4 LATAM
3.9.5 MEA
3.10 Technology overview
3.11 Market share analysis, 2020
3.11.1 Company positioning overview, 2020
Chapter 4 Wheat Starch Market, By Type
4.1 Type Outlook
4.2 Native Wheat Starch
4.2.1 Market size, by region, 2019-2026 (USD Million)
4.3 Modified Wheat Starch
4.3.1 Market size, by region, 2019-2026 (USD Million)
Chapter 5 Wheat Starch Market, By Grade
5.1 Grade Outlook
5.2 Food Grade
5.2.1 Market size, by region, 2019-2026 (USD Million)
5.3 Industrial Grade
5.3.1 Market size, by region, 2019-2026 (USD Million)
Chapter 6 Wheat Starch Market, By End-User
6.1 End-User Outlook
6.2 Food & Beverage
6.2.1 Market size, by region, 2019-2026 (USD Million)
6.3 Cosmetics
6.3.1 Market size, by region, 2019-2026 (USD Million)
6.4 Others
6.4.1 Market size, by region, 2019-2026 (USD Million)
Chapter 7 Wheat Starch Market, By Region
7.1 Regional outlook
7.2 North America
7.2.1 Market size, by country 2019-2026 (USD Million)
7.2.2 Market size, by type, 2019-2026 (USD Million)
7.2.3 Market size, by grade, 2019-2026 (USD Million)
7.2.4 Market size, by end-user, 2019-2026 (USD Million)
7.2.5 U.S.
7.2.5.1 Market size, by type, 2019-2026 (USD Million)
7.2.5.2 Market size, by grade, 2019-2026 (USD Million)
7.2.5.3 Market size, by end-user, 2019-2026 (USD Million)
7.2.6 Canada
7.2.6.1 Market size, by type, 2019-2026 (USD Million)
7.2.6.2 Market size, by grade, 2019-2026 (USD Million)
7.2.6.3 Market size, by end-user, 2019-2026 (USD Million)
7.2.7 Mexico
7.2.7.1 Market size, by type, 2019-2026 (USD Million)
7.2.7.2 Market size, by grade, 2019-2026 (USD Million)
7.2.7.3 Market size, by end-user, 2019-2026 (USD Million)
7.3 Europe
7.3.1 Market size, by country 2019-2026 (USD Million)
7.3.2 Market size, by type, 2019-2026 (USD Million)
7.3.3 Market size, by grade, 2019-2026 (USD Million)
7.3.4 Market size, by end-user, 2019-2026 (USD Million)
7.3.5 Germany
7.2.5.1 Market size, by type, 2019-2026 (USD Million)
7.2.5.2 Market size, by grade, 2019-2026 (USD Million)
7.2.5.3 Market size, by end-user, 2019-2026 (USD Million)
7.3.6 Spain
7.3.6.1 Market size, by type, 2019-2026 (USD Million)
7.3.6.2 Market size, by grade, 2019-2026 (USD Million)
7.3.6.3 Market size, by end-user, 2019-2026 (USD Million)
7.3.7 France
7.3.7.1 Market size, by type, 2019-2026 (USD Million)
7.3.7.2 Market size, by grade, 2019-2026 (USD Million)
7.3.7.3 Market size, by end-user, 2019-2026 (USD Million)
7.3.8 Italy
7.3.8.1 Market size, by type, 2019-2026 (USD Million)
7.3.8.2 Market size, by grade, 2019-2026 (USD Million)
7.3.8.3 Market size, by end-user, 2019-2026 (USD Million)
7.4 Asia Pacific
7.4.1 Market size, by country 2019-2026 (USD Million)
7.4.2 Market size, by type, 2019-2026 (USD Million)
7.4.3 Market size, by grade, 2019-2026 (USD Million)
7.4.4 Market size, by end-user, 2019-2026 (USD Million)
7.4.5 China
7.4.5.1 Market size, by type, 2019-2026 (USD Million)
7.4.5.2 Market size, by grade, 2019-2026 (USD Million)
7.4.5.3 Market size, by end-user, 2019-2026 (USD Million)
7.4.6 India
7.4.6.1 Market size, by type, 2019-2026 (USD Million)
7.4.6.2 Market size, by grade, 2019-2026 (USD Million)
7.4.6.3 Market size, by end-user, 2019-2026 (USD Million)
7.4.7 Malaysia
7.4.7.1 Market size, by type, 2019-2026 (USD Million)
7.4.7.2 Market size, by grade, 2019-2026 (USD Million)
7.4.7.3 Market size, by end-user, 2019-2026 (USD Million)
7.4.8 Australia
7.4.8.1 Market size, by type, 2019-2026 (USD Million)
7.4.8.2 Market size, by grade, 2019-2026 (USD Million)
7.4.8.3 Market size, by end-user, 2019-2026 (USD Million)
7.4.9 South Korea
7.4.9.1 Market size, by type, 2019-2026 (USD Million)
7.4.9.2 Market size, by grade, 2019-2026 (USD Million)
7.4.9.3 Market size, by end-user, 2019-2026 (USD Million)
7.5 Central & South America
7.5.1 Market size, by country 2019-2026 (USD Million)
7.5.2 Market size, by type, 2019-2026 (USD Million)
7.5.3 Market size, by grade, 2019-2026 (USD Million)
7.5.4 Market size, by end-user, 2019-2026 (USD Million)
7.5.5 Brazil
7.5.5.1 Market size, by type, 2019-2026 (USD Million)
7.5.5.2 Market size, by grade, 2019-2026 (USD Million)
7.5.5.3 Market size, by end-user, 2019-2026 (USD Million)
7.5.6 Argentina
7.5.6.1 Market size, by type, 2019-2026 (USD Million)
7.5.6.2 Market size, by grade, 2019-2026 (USD Million)
7.5.6.3 Market size, by end-user, 2019-2026 (USD Million)
7.6 MEA
7.6.1 Market size, by country 2019-2026 (USD Million)
7.6.2 Market size, by type, 2019-2026 (USD Million)
7.6.3 Market size, by grade, 2019-2026 (USD Million)
7.6.4 Market size, by end-user, 2019-2026 (USD Million)
7.6.5 Saudi Arabia
7.6.5.1 Market size, by type, 2019-2026 (USD Million)
7.6.5.2 Market size, by grade, 2019-2026 (USD Million)
7.6.5.3 Market size, by end-user, 2019-2026 (USD Million)
7.6.6 UAE
7.6.6.1 Market size, by type, 2019-2026 (USD Million)
7.6.6.2 Market size, by grade, 2019-2026 (USD Million)
7.6.6.3 Market size, by end-user, 2019-2026 (USD Million)
7.6.7 South Africa
7.6.7.1 Market size, by type, 2019-2026 (USD Million)
7.6.7.2 Market size, by grade, 2019-2026 (USD Million)
7.6.7.3 Market size, by end-user, 2019-2026 (USD Million)
Chapter 8 Company Landscape
8.1 Competitive analysis, 2020
8.2 Cargill Incorporated
8.2.1 Company overview
8.2.2 Financial analysis
8.2.3 Strategic positioning
8.2.4 Infographic analysis
8.3 ADM
8.3.1 Company overview
8.3.2 Financial analysis
8.3.3 Strategic positioning
8.3.4 Infographic analysis
8.4 Roquette Freres
8.4.1 Company overview
8.4.2 Financial analysis
8.4.3 Strategic positioning
8.4.4 Infographic analysis
8.5 Tereos
8.5.1 Company overview
8.5.2 Financial analysis
8.5.3 Strategic positioning
8.5.4 Infographic analysis
8.6 AGRANA Beteiligungs-AG
8.6.1 Company overview
8.6.2 Financial analysis
8.6.3 Strategic positioning
8.6.4 Infographic analysis
8.7 Tate and Lyle
8.7.1 Company overview
8.7.2 Financial analysis
8.7.3 Strategic positioning
8.7.4 Infographic analysis
8.8 Amilina
8.8.1 Company overview
8.8.2 Financial analysis
8.8.3 Strategic positioning
8.8.4 Infographic analysis
8.9 Crespel & Dieters
8.9.1 Company overview
8.9.2 Financial analysis
8.9.3 Strategic positioning
8.9.4 Infographic analysis
8.10 Penford Corp. Industrial Starc
8.10.1 Company overview
8.10.2 Financial analysis
8.10.3 Strategic positioning
8.10.4 Infographic analysis
8.11 New Zealand starch Company
8.11.1 Company overview
8.11.2 Financial analysis
8.11.3 Strategic positioning
8.11.4 Infographic analysis
8.12 Ingredion Food
8.12.1 Company overview
8.12.2 Financial analysis
8.12.3 Strategic positioning
8.12.4 Infographic analysis
8.13 Manildra Group
8.13.1 Company overview
8.13.2 Financial analysis
8.13.3 Strategic positioning
8.13.4 Infographic analysis
8.14 Emsland-Starke GmbH
8.14.1 Company overview
8.14.2 Financial analysis
8.14.3 Strategic positioning
8.14.4 Infographic analysis
8.15 Avebe U.A.,
8.15.1 Company overview
8.15.2 Financial analysis
8.15.3 Strategic positioning
8.15.4 Infographic analysis