GFRP Composites Market Insights
Glass fiber reinforced plastic (GFRP) is a composite material composed of plastic and ultra-fine glass fibers, generally referred to as fiberglass. In comparison to carbon and other metal fiber composites, GFRP is a less expensive composite material.This synthetic composite material has been in demand for its durability, lightweight, and corrosion resistance quality for the last few decades. In sectors such as automotive, wind energy, construction, and aerospace and defense, among others, GFRP products are in huge demand.
The manufacturing process of GFRP is unique and different. It can be comprised of five steps. The process starts with Batching where the components must be measured carefully. Silica sand, which is the basic block building of any glass, is more than 50% of the blend. Then the product reaches the melting stage where the product is melted at 1400°Celsius. The product is then converted into molten glass, which flows into a refiner where its temperature is reduced to 1370° Celsius. Then the product reaches the Fiberisation stage. The product moves to the coating stage where a chemical coating is applied to it. Here the weight to approx. 0.5 to 2 kgs are added and can also include lubricants and other agents. The product then goes on to the final step, which is drying and packaging. The filaments are grouped at this point.They are dried and then the product is ready to be packaged or shipped or ready for processing further into yarn or something else.
GFRP Material has several known properties, which are:
• Mechanical Strength: The GFRP material is incredibly robust. It outperforms steel in terms of toughness. Acid rain, saltwater, and a range of other contaminants won't damage it.
• High Durability: Rodents and insects do not rot, and GFRP has little effect on them. After 30 years, it hasn't lost any laminate properties.
• Lightweight: Since GFRP is lightweight, it is a device that can be quickly built and delivered at a low cost.
• Electrical Characteristics:Despite its thinness, it is an efficient electrical insulator.
GFRP is available in a range of designs, sizes, and textures and can be used for both interior and exterior fixtures in new construction and renovation projects.Food & Beverage, Aerospace and Defense, Marine, Healthcare, Consumer Goods, Transportation, and others are among the industries where GFRP is looking for applications.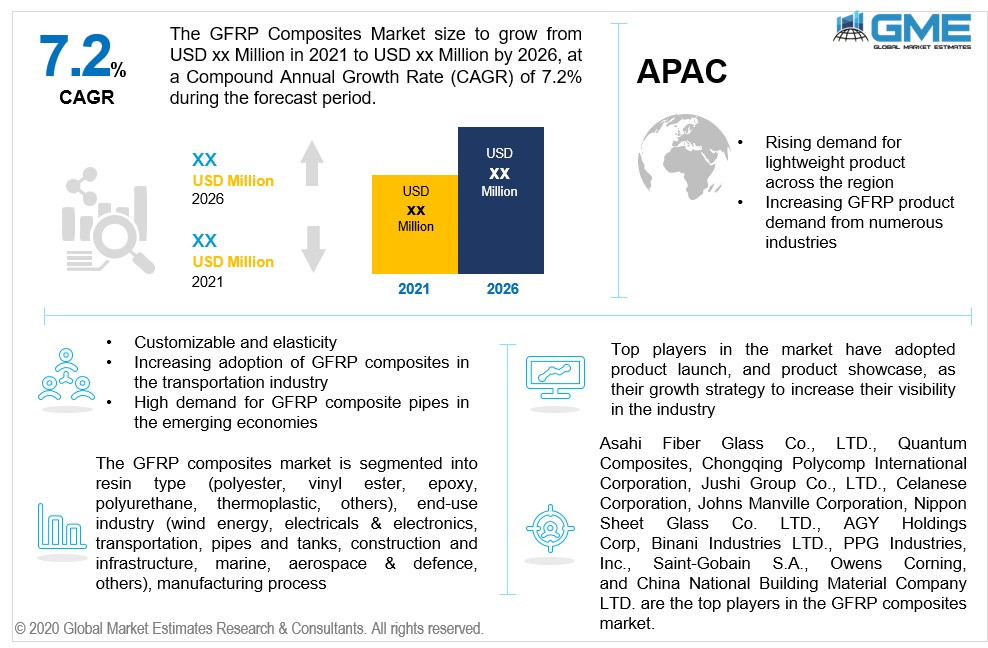 GFRP Composites Market: By Resin Type
Based on resin type, the market can be classified into polyester, vinyl ester, epoxy, polyurethane, thermoplastic, and thermoplastic, among others. As used with GFRP composites, resins help to boost the product's consistency. Where the need emerges, GFRP composites are combined with resins to improve the product's performance. According to the report, the polyester segment would have the largest market share in GFRP composites.It will rise in the forecast period due to its superior efficiency and widespread use with GFRP composites.
GFRP Composites Market: By End-Use Industry
Based on the end-use industry, it can be classified into wind energy, electrical & electronics, transportation, pipes and tanks, construction and infrastructure, marine, and aerospace &defense, among others. The transportation industry's high demand for GFRP composites can be due to their lightweight and improved fuel consumption.Transportation is a fast-paced business that never stops moving. People can still travel from one location to another, whether they use private or public transportation. According to the study, transportation has the largest share of the GFRP composites industry due to its large volume and high value.
GFRP Composites Market: By Manufacturing Process
According to the manufacturing process, compression and injection molding process, layup, filament winding, pultrusion, resin transfer molding (RTM), and other manufacturing processes are involved. Compression and Injection Molding are the most cost-effective of these procedures, with a short processing period and other benefits.These composites are used to make car bumpers, electrical equipment frames, and medical device enclosures, among other things. These are the most common uses for GFRP composites, which drives the use of the injection molding process to make GFRP composite parts.
Injection molding and compression are commonly used in a variety of fields, including electrical and electronics, construction, and so on. Vehicles, panels for electric equipment, and other essential products are made of GFRP composites and compression and injection molding. As a result, Injection Molding and Compression is the GFRP composites market's fastest-growing manufacturing process.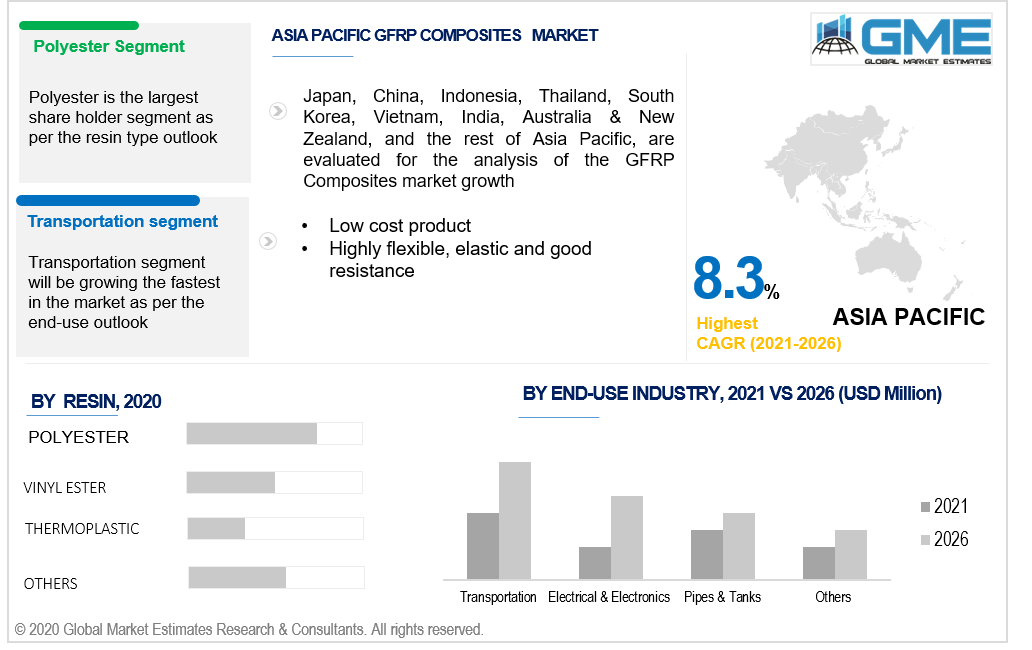 GFRP Composites Market: By Region
As per the geographical analysis, the market of digital business support systems can be classified into North America, Asia Pacific, Europe, Middle East & Africa, and Central South America.North America and Europe have been the primary markets for them due to the growing need for GFRP composites in the automobile and construction industries. Furthermore, as the world becomes more urbanized, the need for residential building applications such as glass fiber bathroom components is expected to rise dramatically.
During the forecast period, the Asia Pacific region is projected to be the fastest-growing market for GFRP composites.The market in the Asia Pacific is being driven by the growing use of GFRP composites in various industries such as electrical & electronics, wind energy, construction & utilities, and transportation. China is the industry leader in the Asia Pacific for GFRP composites. In 2016, China's wind energy sector saw the most deployments, with a total capacity of 23,328 megawatts added.
GFRP Composites Market Share and Competitor Analysis
Asahi Fiber Glass Co., LTD., Quantum Composites, Chongqing Polycomp International Corporation, Jushi Group Co., LTD., Celanese Corporation, Johns Manville Corporation, Nippon Sheet Glass Co. LTD., AGY Holdings Corp, Binani Industries LTD., Nitto Boseki Co., LTD., Reliance Industries, PPG Industries, Inc., Saint-Gobain S.A., Taishan Fiberglass, Inc., BGF Industries, Inc., Jiangsu Jiuding New Material Co., LTD., Owens Corning, and China National Building Material Company LTD. are the top players in the GFRP composites market.
Please note: This is not an exhaustive list of companies profiled in the report.
In May 2018, At JEC World 2018, Owens Corning will demonstrate the power of composites to 'Make Impossible Things.'
In October 2017, Johns Manville launched its new product i.e., the ThermoFlow 600, a chopped glass fiber, for high-performance PET/PBT fiber for use in electronics and consumer applications.