Global Graphene Market: Insights
Graphene is a honeycomb-shaped thick sheet made from carbon atoms. Characteristics wise, graphene is harder and more rigid than diamond or steel, is more flexible and more elastic than rubber, and way lighter than aluminum. Graphene is considered the most robust and strongest material of all.
The properties that this material attributes have encouraged and developed curiosity among researchers and innovators to discover its vivid applications and bring transformational changes in society. Graphene has tremendous mechanical strength that enhances the strength of other materials when used together. Graphene is extensively used in combination with plastic, which increases the durability of final products like mobile phones, the material used in construction, or electronic devices. Besides the mechanical strengths, graphene also has thermal conductivity. It has the highest heat conductivity compared to any of the rest materials used. This property of graphene enables the users to use it in various heat-generating and light-spreading applications. If used in LEDs or other electronics, it facilitates long-lasting and reliable outputs. Researchers and industry developers are the biggest promoters of the features and properties delivered by the graphene material and are trying to incorporate it more into various applicational purposes. China-based telecommunication equipment and smartphone company called Huawei have started adopting graphene-induced thermal sheets/ films into their smartphone manufacturing.
Along with mechanical toughness and thermal conductivity, the graphene material also attributes high efficiency in storing energy. This property of graphene attracts more end users. With considerably high surface space or area, graphene acts as the best material for manufacturing batteries and capacitors. It enables users to store high energy and recharge at a faster speed. It facilitates lightweight batteries, with a high and wide range of temperature choices.
Another property attributed to graphene, which makes it a better choice over steel or other material, is its anti-corrosive nature. It also provides an excellent level of transparency, which enables the many innovators to use it in high-tech applications like big screens and robotics, thus enabling the industry players and inventors to bring in high-level technological advancements and transformations into the world that facilitate ease of living. The graphene material turns up to be very versatile as compared to the rest of the materials and can be used and applied in various disciplines. Its two-dimensional structure and stiffness are very advantageous for many end-users. Also, the low manufacturing cost and easy availability make it more preferred over other materials.
The graphene market today is at the very initial budding stage. This material yet has to grow its roots deep into the global market. However, gradually more and more end-user industries are discovering all the beneficial characteristic features of this material and are incorporating it in various applications. Graphene is expected to overtake all the other materials used in various industries across the global market.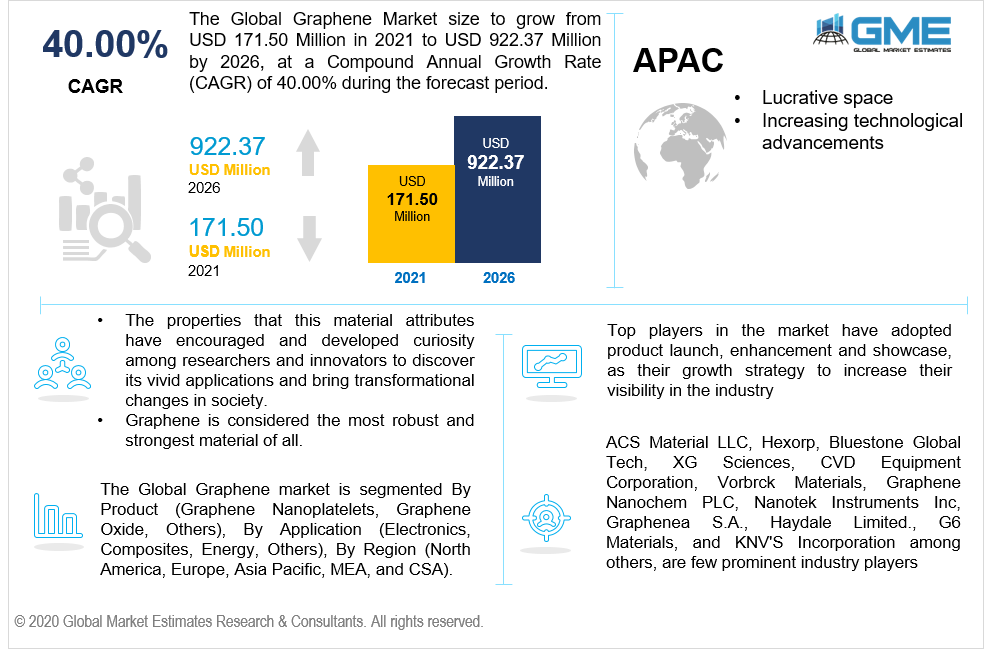 Global Graphene Market: By Product
Graphene nanoplatelets are the most commonly used type in the global graphene market. These graphene nanoplatelets exhibit excellent properties like thermomechanical feature, toughness, electric conduciveness, mechanical features like strength and elongating nature, and electrical conduction. The epoxy composites present in graphene nanoplatelets makes it act as a barrier to humid environments or surroundings. Such properties, low production cost, and ease in manufacturing make it the most favorite product in the graphene market. Research and Development departments highly encourage utilizing graphene nanoplatelets in various applications due to their distinctive morphology and massive application scope. It is predicted that the graphene nanoplatelets supply market will get commercialized due to their properties of mechanical strengths, conducive features, and barricading solid walls.
Global Graphene Market: By Application
Graphene is most significantly applied and utilized in the electronics industry. Its transparent, stiff, durable, flexible, and waterproof nature makes it the best choice to use in manufacturing electronic devices. Researchers have proved that graphene has the capacity and potential to create next-generation electronics that will be advanced in all sense. Currently, graphene is utilized in creating touch screens for mobile phones and tablets. The researchers utilizing its strengths and conduciveness have applied it in semiconductors, which with its high electrical features and ability of high temperature, are replacing computer chips. Its single atom thick layer is significantly used in electrodes and is replacing indium tin oxide.
Followed by electronics, graphene is also extensively used in composites. Graphene-induced composites are utilized in automobiles, plastics, batteries, paint, and coating. The high storage, rechargeable, and lightweight property of graphene make it suitable for battery manufacturing. The non-corrosive nature and barrier to humidity or water act as a better choice to use as a composite in coatings. Its flexibility, along with its durable nature, makes it preferred over steel or aluminum composites in the automobile industry. Researchers have also been successful in utilizing graphene composites in innovating transparent and flexible memory chips. Graphene is today considered a potential and promising material sheet, which can be used in various electronic devices, circuits, and systems.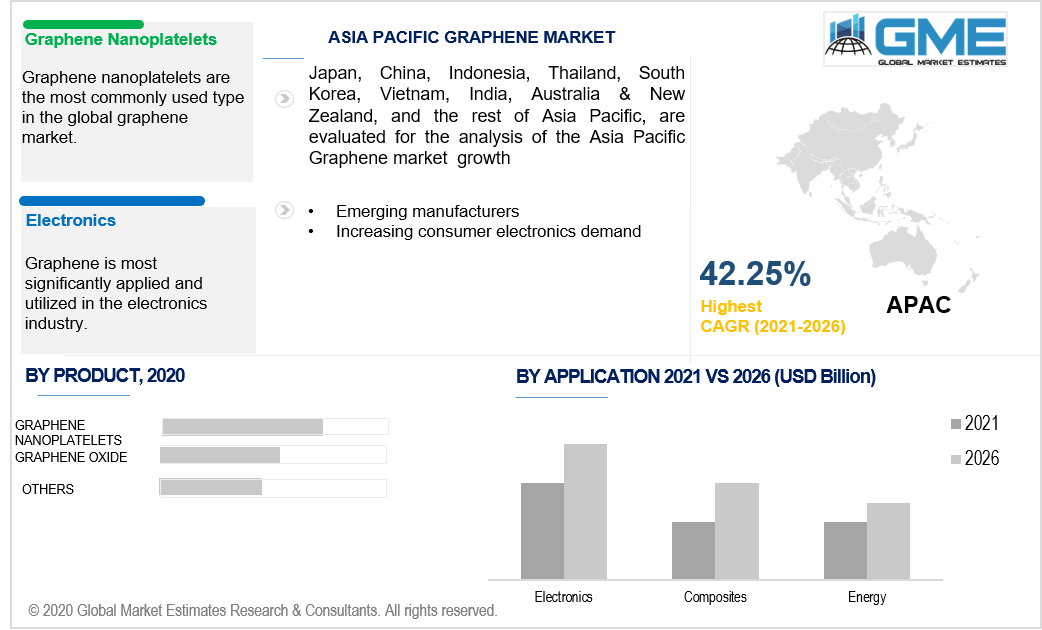 Global Graphene Market: By Region
Europe has its dominance and the largest share in the graphene market. This region has very high potential in innovation and bringing revolutionary technological transformations. The governmental organizations have put high investments in this material's research and development to bring technological advancements revolving around robotics and other sci-fi technologies. They have high research contributions in bendable electronics, semiconductors, wearable electronics, and many more.
Asia-Pacific region is predicted to showcase fast growth in utilizing graphene in its various applicational uses. Asia-pacific is a very budding, profitable, and worth investing market, owing to its ability to generate tremendous scope and opportunity to showcase innovations. Asia Pacific region is also very inclusive, where the people are open to new adaptations and give scope to new joiners of the market to showcase their abilities. Countries like China are developing rapidly and have been witnessing drastic technological transformations in all their sectors. China has also been incorporating graphene in various of its industries, from electronics to energy. The APAC region has many potential consumers waiting to utilize these transformations and innovations brought by graphene utilization due to its large-sized and highly populated countries.
Global Graphene Market: By Share & Competitors Analysis
ACS Material LLC, Hexorp, Bluestone Global Tech, XG Sciences, CVD Equipment Corporation, Vorbrck Materials, Graphene Nanochem PLC, Nanotek Instruments Inc, Graphenea S.A., Haydale Limited., G6 Materials, and KNV'S Incorporation among others, are few prominent industry players.
Please note: This is not an exhaustive list of companies profiled in the report.
The Global Graphene Market has been studied from the year 2019 till 2026. However, the CAGR provided in the report is from the year 2021 to 2026. The research methodology involved three stages: Desk research, Primary research, and Analysis & Output from the entire research process.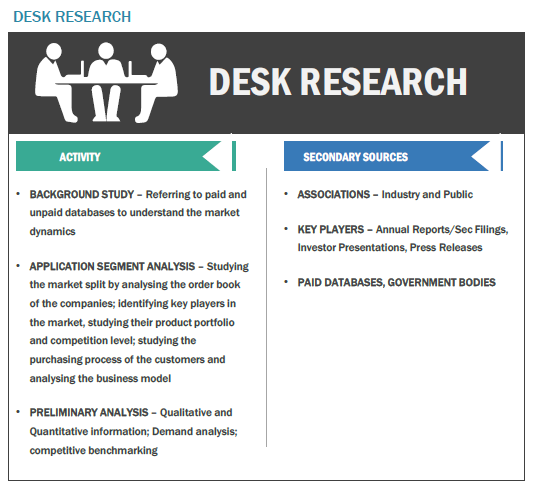 The desk research involved a robust background study which meant referring to paid and unpaid databases to understand the market dynamics; mapping contracts from press releases; identifying the key players in the market, studying their product portfolio, competition level, annual reports/SEC filings & investor presentations; and learning the demand and supply-side analysis for the Graphene Market.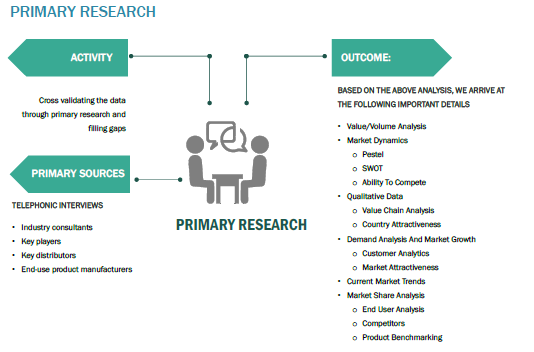 The primary research activity included telephonic conversations with more than 50 tier 1 industry consultants, distributors, and end-use product manufacturers.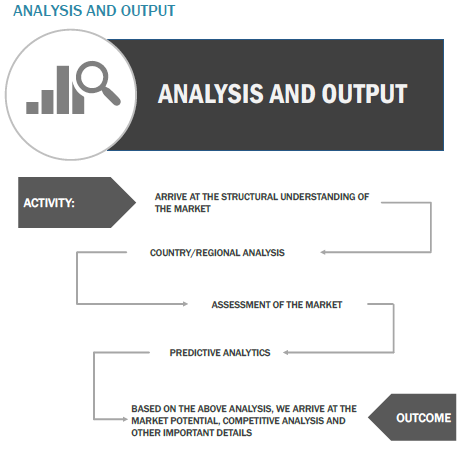 Finally, based on the above thorough research process, an in-depth analysis was carried out considering the following aspects: market attractiveness, current & future market trends, market share analysis, SWOT analysis of the company and customer analytics.