Textile Machinery Market Insights
Textile machines are used for processing textiles, woven & non-woven materials, and fabrics among others. They are used for performing different activities like spinning, dyeing, weaving, and warping. Textile equipment is used to dye, manufacture, and finish materials like yarn, fibre, and thread. The growing demand for Non-Woven Fabrics is driving the market for textile machinery. The rising demand for environmentally friendly fibers, textile products, and growing demand from developing nations will stimulate market growth.
The growing demand for sophisticated devices that produce high-quality cloth along with advancements in printing technology in textile manufacturing is supporting the market growth. The growing adoption of automation and robotics in textile manufacturing is also propelling the market for textile machinery.
Today machinery manufacturers deliver sophisticated machines of higher production capacity and speed and textile machinery at competitive prices. Several small-scale market players also make the machinery sector more competitive, and multinational corporations have entered the global market, escalating the competition to the next level and driving companies to work on their innovation and productivity. The textile machinery market is extremely dynamic, changing from conventional to more sophisticated options owing to continuous technological advancements. The increasing market demand for furniture upholstery, home textiles, fashion trends, and automobile textiles also affects textile machinery's demand.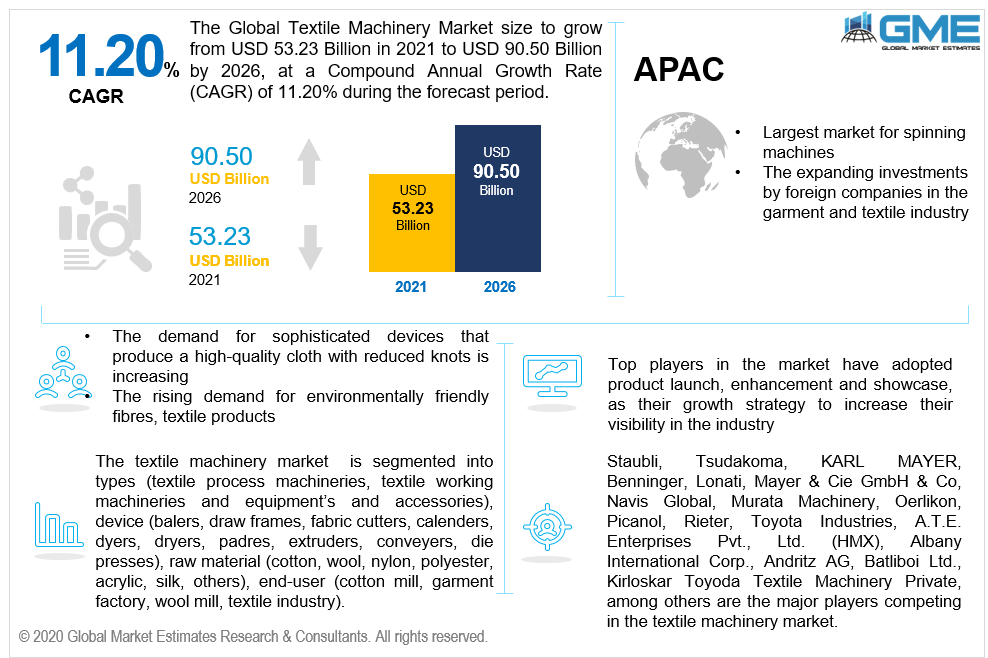 Textile Machinery Market: By Type
Based on the type, the market is considered into two segments namely textile process machinery and textile working machinery. The textile process machinery is further sub-segmented into, cloth dying machines, textile spinning machines, knitting machines, quilting machines, crochet machines, textile finishing, lace-making machines, textile sourcing machines, and label making machines among others.
The textile working machinery and equipment's has further explained into applique scaling machines, monogramming machines, attaching machines, industrial sewing machine, cloth cutting machines, and embroidery machinery, among others.
The textile spinning machines segment will be the dominating segment in terms of share between 2021-2026. They are broadly used due to the quality of yarn and the high speed it produces. This technology makes structurally stronger yarns, produces softer fabrics and yarns, and can spin any material. The operational functions are also very simple to understand and learn. Moreover, as the drawing section's speed can be appropriately managed, the yarn's uniformity is very well maintained.
Textile Machinery Market: By Device
Based on the devices, the market is categorized into balers, die presses, draw frames, conveyors, fabric cutters, extruders, padres, and dryers among others. The balers segment will witness significant growth in the forecast period. A baler machine is a valuable device used as recycling equipment. The press-fitted within the baler compresses together waste materials, like cardboard, which are then tied together to form a bale.
Textile Machinery Market: By Raw Material
Based on the raw material, the market is categorized into seven segments namely cotton, wool, nylon, polyester, acrylic, silk, and others. The cotton segment will occupy the major chunk of the market between the forecast period. Cotton is a primary textile for the fashion industry. It is a fixture of the textile industry because of its soft feel, mass production, durability, and absorbency. It is commonly used for blue jeans, T-shirts, sweats, dresses, and so much more.
Textile Machinery Market: By End-User
By end-user, there are four segments: cotton mill, garment factory, wool mill, and textile industry. The textile industry will have the highest CAGR in the forecast period. Technical textiles will be growing the fastest and the most capable areas under the larger textile industry.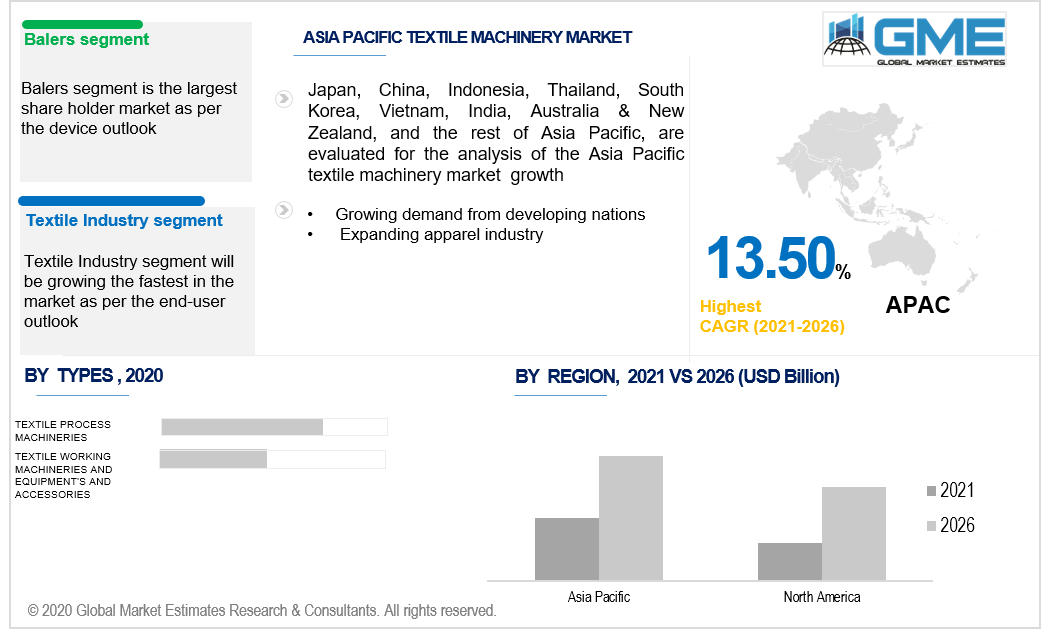 Textile Machinery Market: By Region
The Asia Pacific region will be the key region in the global market and occupy a major share in spinning machines. The expanding investments by foreign companies in the garment and textile industry are important factors driving the region's market growth. India, China, Vietnam, Japan, and Indonesia are the main markets for textile machinery in the Asia Pacific region. The presence of key textile industries and rising demand for clothing are supporting regional growth. Increasing investments in textile industries from the multination companies in Indian also driving regional growth.
Textile Machinery Market Share and Competitor Analysis
American Textile Machinery Association, YIINCHUEN Machine, Dornier, NEDCO, Salvadè, Bonas, Lakshmi Machine Works, Marzoli, STOLL, Truetzschler, RIFA, Golden Eagle, JINGWEI, ERFANGJI, NGGONG, PACIFIC MECHATRONIC, QINGDAO SPARK GROUP, Qingdao Textile, DONGJIA, JINSHENG, CTM, CHONGLEE MACHINERY, Intertrad Group, Itema Group, Staubli, Tsudakoma, KARL MAYER, Benninger, Lonati, Mayer & Cie GmbH & Co, Navis Global, Murata Machinery, Oerlikon, Picanol, Rieter, Toyota Industries, A.T.E. Enterprises Pvt., Ltd. (HMX), Albany International Corp., Andritz AG, Batliboi Ltd., Kirloskar Toyoda Textile Machinery Private, Brother Industries Ltd., C. A. Litzler Co., Inc., Cheran Machines India Pvt., Ltd., China Hi-Tech Group Corporation, Cortex, CPM Wolverine Proctor LLC are some of the identified industry players.
Please note: This is not an exhaustive list of companies profiled in the report.
Check the Press Release on Global Textile Machinery Market Report